Blog
REGISTER NOW
LOGIN
SIGN UP FOR OUR NEWSLETTER
February 2012 Newsletter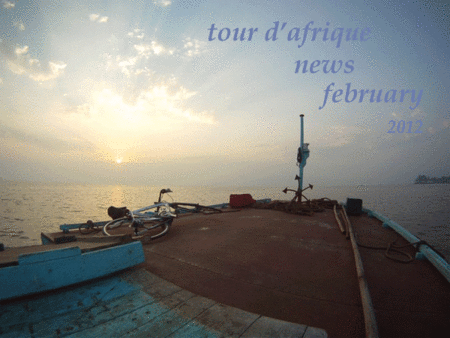 ferry crossing, Murad, Indian Adventure Bicycle Expedition

Jenny & Kees celebrate at the finish in Cape Town 2006
In an age of social networks like Facebook, LinkedIn and the like, the word 'friend' has developed different meanings. Jenny and I are friends with many people, mainly through electronic encounters. Perhaps we should call these friends, our e-friends. When do friends become r-friends, real friends? When you have cycled across Africa together!
We hope to see many of our R-friends during the All Roads Lead to Rome Alumni Event this year. We will bring enough handkerchiefs for those emotional moments and yes, also our book from the TdA2006 (not for sale sorry!). It will bring back sweet/sad memories but it will also be a good moment to make new plans for other trips together somewhere on this planet.
Pedal Pals

Pedal Pals celebrate the end of the 2009 Orient Express in Istanbul
We'd like to introduce 3 participants from the upcoming Trans-Europa, the Pedal Pals – Daphne Tonellato, Shirley Davey and Walli Pagniello. They rode with us the Orient Express Tour in 2009 and the North American Epic in 2011 and they're coming back to ride from St. Petersburg to Venice.
As Daphne says "Travelling by bicycle with a group is the very best way to visit just about anyplace…Meeting and sharing stories with other cyclist is always positive and with luck some of the new cyclists will become good friends."
We caught up with Walli and Daphne to ask some questions about the highlights of cycling and traveling with friends. Read more here.
One of the biggest challenges of taking part in the Tour d'Afrique is the social element that comes with it. As the tour leader says every year, "this is not a race, it's a social experiment". And rightly so because spending four months with almost 60 strangers is one of the most challenging parts of taking part in TDA. However, this is also most rewarding parts of this tour and after just one month it is clear that strong friendships have already been formed. Read more.
For most riders on the Tour d'Afrique this grueling journey is an extreme physical adventure and a mental challenge. Upon signing up many did not realize that it is also a journey where they will forge relationships along the dusty African roads which will last them a lifetime. Canadian Carla White, bumped into a curious 13-year-old Ethiopian boy named Adam. The two of them spent a day eating, laughing and exploring his home village. He took her to meet his family and they both got an intimate introduction into each other's cultural curiosities… This is a snippet from Carla's Blog about her magical day.
""We chatted the whole way back up to the main road about David's family, school, life and sports. Then he asked me what sports I liked and I told him skiing and snowshoeing. Suddenly, it was like his comprehension of the English language had been completely wiped out. "I don't understand," he said. "I've never heard these words before". So I asked him if he had ever seen a snowman. (In retrospect it was likely THE dummest follow-up question on the planet). "Snowman?" as this poor little guys eyebrows furrowed even further…""
Read more here.
We made friends. Fast friends. Even before we had pedalled our first kilometre we had shared many stories and got to know each other and some of our motivations. Many riders of past tours have commented that, though the cycling was memorable, it was the friends made that made the trip."
It all began on a cold foggy morning in Agra – but the smiling faces could be seen through even the thickest fog. The Taj Mahal, on the other hand, stayed hidden from view of our 'start line' group photo. Read more here.
"Hi "Coach Rob" Grissom here, I am very excited to begin writing for Tourdafrique as the Official Coach of the 2012 Silk Route Bicycle Expedition.
I am cycling coach located in the Central Kentucky and will be writing a series of 8 articles for the TdA blog about training for the ride from Shanghai to Istanbul.
I look forward to providing you with tips on training, riding and getting more enjoyment out of your cycling passion. I hope that you find like many of the cyclists I coach that my coaching is based on real world experience and not laden with technical jargon. Feel free to email questions to Rob@PositivePerformanceCoaching.com
If I don't have the answer I'm sure I know someone who does and will find the answer for you.
For a limited time I am offering offering coaching service discounts of up to 50% off to readers of the TdA newsletter. Feel free to email me if you are interested. To learn more about coaching services please visit my website: Coaching Services.
Stay tuned to the TdA blog for my up coming cycle training series. You can read the first article here."
What Does It Mean to Cycle Around the World?
The folks over at Guinness have the idea that you have to travel 24,900 miles (the length of the equator) and at least 18,000 miles must be on a bike. Technically that might be correct – but it seems like a short cut to us.
Other Tour Companies have created 'round the world trips' that cleverly stitch together planes and trains and trucks to ensure that you can cycle on most every continent for at least a few miles and allow you to say you have cycled the globe.
If you know us, you know we could never live with that. Stay tuned…
Watch This