Blog
REGISTER NOW
LOGIN
SIGN UP FOR OUR NEWSLETTER
Going the Extra Mile on Tour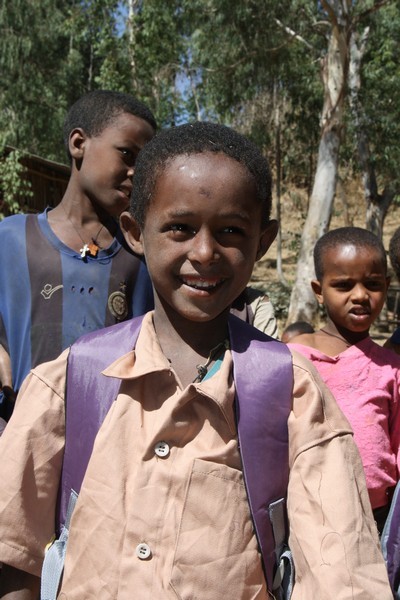 8 days of some of the toughest riding on tour brought the 2012 Cairo to Cape Town riders to Gondar, Ethiopia. Eight days is a long time to ride without a rest day and doing it through the heat and rough roads of southern Sudan makes it even more of a challenge. Riders and staff alike arrived tired and more than ready for the two days of rest scheduled here.
Tired but Willing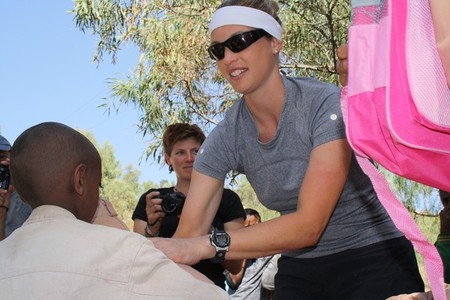 Gondar is the location of our first bike donation of the tour and despite their exhaustion and long to-do lists that include eight days of dirty laundry, bike repairs, e-mails to catch up on and sightseeing interests in the city, 18 intrepid riders chose to join us for the ceremony hosted by Arbatu Ensesa Primary school. Many of these riders had also generously donated money so that, in addition to our bike donation, we could also contribute towards school uniforms for 104 disadvantaged students at the school.
Linking Schools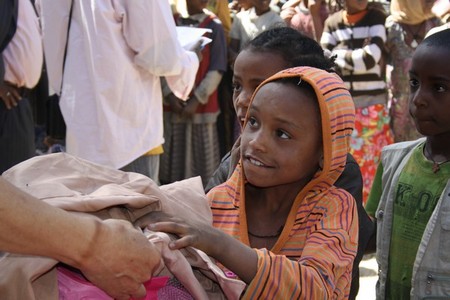 The school uniform donation was organized by Link Ethiopia and 2010 TdA rider Tony Nester, who has been working with the school through Link Ethiopia for 6 years now. Link Ethiopia's primary mission is to link schools in the UK with schools in Ethiopia so that they may learn from each other, host student exchanges and support Ethiopian schools. Tony, a UK resident, has helped the school to build a classroom block, two toilet blocks and provide uniforms to underprivileged students in his 6 year history with the school.
The Ceremony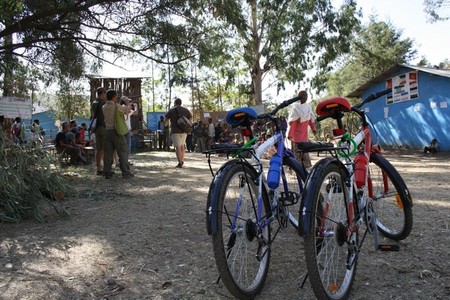 At 9 am a bus picked us up from the Goha Hotel and took us as close to the school as it could. There are no roads that reach the school so we had to walk the last 2km or so. The descent down the steep hill to the school was tough on the tired legs of riders and as we descended thoughts of having to climb back up the hill after the ceremony were on everyone's mind.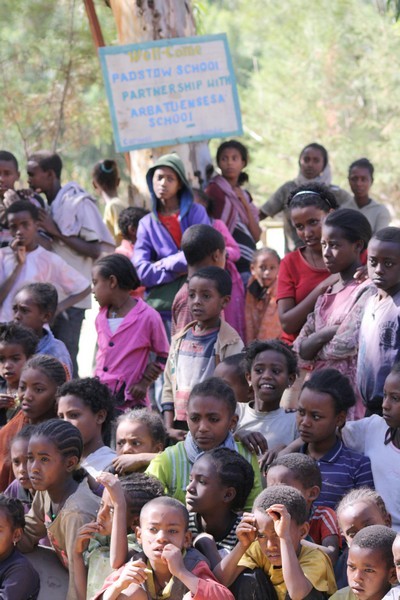 We arrived at to the clapping and smiles of 100 students and teachers welcoming us to the school. After some quick introductions the children were organized into rows according to age and riders spent the next 45 minutes handing out uniforms, book bags and notebooks to excited school kids.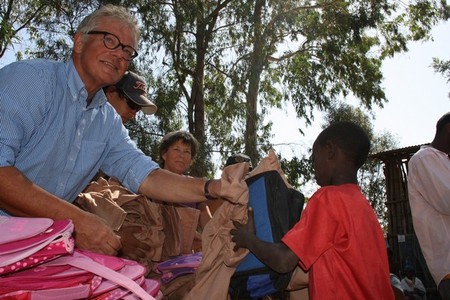 While the donation of a uniform is a simple thing it can have big impact on a student's motivation to learn. Uniforms are required at Ethiopian schools but many children cannot afford them. Receiving a uniform and book bag helps them fit in with their class, increases their confidence and pride in attending school. For these children it would also be the first set of new clothes they have ever received.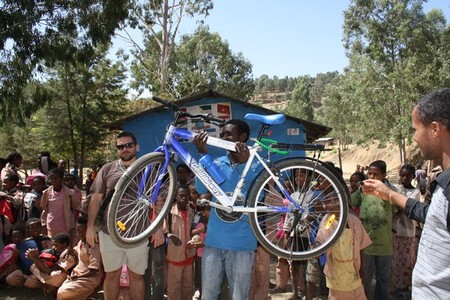 After the handing out of the uniforms we had our bike donation. Two representatives for other schools were present to receive the bikes. In total we donated 10 bikes, 5 to each school, to be used for bike education classes and the schools.
Coffee and Dancing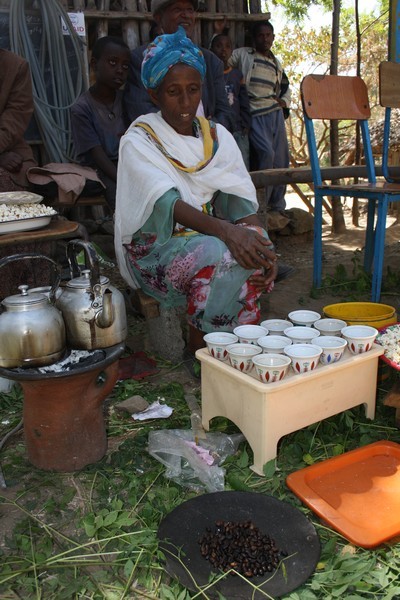 While the bike and uniform donations were happening a few teachers from the school were quietly roasting coffee in a small pan over charcoal. When the beans were fully roasted they walked up to each rider and let them smell the freshly roasted beans before pounding the beans in a mortar into a fine powder.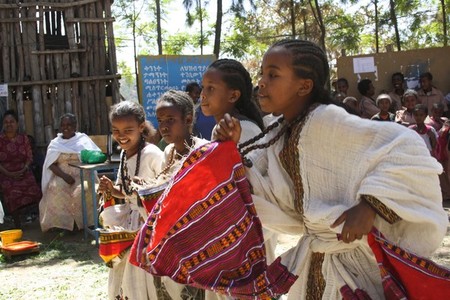 After the donations were complete the riders were served coffee and snacks. Next, despite a malfunctioning tape player and crackling speaker system, music was played and six children from the school performed some traditional Ethiopian dances.
Finishing Up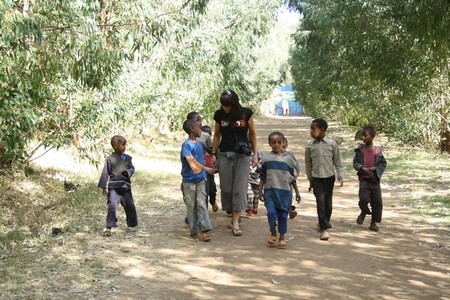 We finished up with a quick tour of the school compound, including the gardens which supply food and income for the children. In total the event lasted almost three hours, a valuable amount of rest day time for riders to give up, but a rewarding experience. A big thanks to all the riders who attended and donated to the school.