Blog
REGISTER NOW
LOGIN
SIGN UP FOR OUR NEWSLETTER
Paul returns to Ethiopia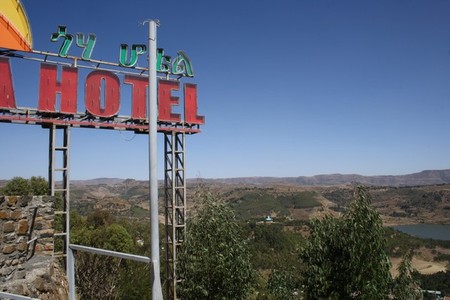 Some Tips when flying domestically in Ethiopia
I love Ethiopian Airlines. A lot of the other major carriers could learn something from them about making long flights more enjoyable. Although much of what made my flight from Washington DC to Addis Ababa enjoyable is most likely attributable more to the Ethiopian culture than the airlines policy.
The one thing that makes flying with them the most enjoyable is the casual atmosphere once you are in the air. After serving us lunch the flight attendant announced that they were leaving some drinks and snack in the crew area and we were to help ourselves to them whenever we wanted.
So throughout the flight people were walking back to get a soda or small sandwich and would stand in the back or in the aisles and chat with each other while they ate. The flight attendants are very friendly and often join in the conversation. It makes the 12 hour flight go much faster.
And of course there is the clapping when the plane lands. This is common on a lot of flights to Africa and it always makes me smile.

From Addis to Gondar
Their domestic flights are also pleasant but there are a few quirky things to be aware of. I've only ever flown out of Addis Ababa but I would imagine you'd have a similar experience from other Ethiopian airports.
Arrive early and then get a coffee

You will go through security scans twice at the domestic terminal Once as you enter the building, which can be a little hectic, and again before you get to your gate. . Arrive early and this process goes quickly. Arrive late and you could be in line for a while. There are no food services after the second checkpoint so get yourself a snack and a delicious Ethiopian coffee before you go through.
Baggage Charges
You'll be charged for baggage over 20 kilos. This is of course normal for airlines these days but at Addis airport you pay for your excess baggage at a separate counter than the one you check your luggage at. Another reason to arrive early and get this done before the long queues form.
Hurry up and Wait
Once you've had your coffee and gone through the second security scan you'll be at your gate. Another interesting quirk is you will not hear an announcement for when your gate opens. An attendant will simply open the door and everyone will rush to get in line. This is a little disturbing at first but there is no reason to rush. The boarding procedure is much the same as other airlines so rushing to be first in line does not do you much good. Just be aware that if you are away from the gate area you will not hear an announcement and could miss your flight.

Curbside Service
Gondar has a small airport so the twin prop plane we arrived in literally pulled right up to the terminal much like a taxi or limousine would pull up to a hotel. Claiming baggage is also a little hectic with some pushing and shoving involved but nothing too serious. Outside you'll find a dozen or so taxi drivers eager to take you to your hotel, you should pay 50 to 70 Birr (4 – 6 dollars) for the trip.

Relax and Enjoy
If you're thirsty and in no rush to get to your hotel stop at the Dashen Brewery on the drive in. They have a great beer garden and a decent burger.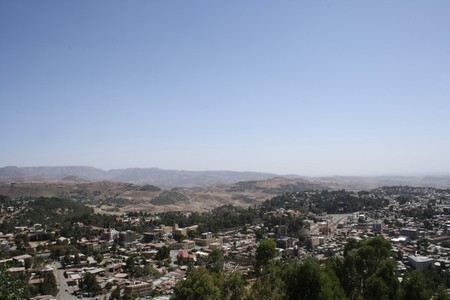 If you're looking for a good place to stay the Goha Hotel is wonderful. Atop one of the highest hills in the city it has epic views, good service, clean rooms and free wifi in the restaurant.
It's where I'm sitting right now, and I certainly have no complaints! The riders should arrive here shortly and we have two rest days here. Much needed rest days after a tough 8 day stretch though Sudan and the two days climbing up to Gondar.
Tomorrow we will visit Arbatu Ensesa school where we will have our first bike donation ceremony of the tour and the annual TdA riders vs Arbatu Ensesa School soccer match!
More on that in an upcoming post. I'll be with the tour up to Nairobi, its one of my favorite sections of the tour so I'm looking forward to it. I'm especially excited to visit the new bike shop we helped Wheels of Africa start in Nairobi and meeting Bram at Arrow Web hospital again.
Its great to return every year and visit with old friends.