Blog
REGISTER NOW
LOGIN
SIGN UP FOR OUR NEWSLETTER
Pedal Pals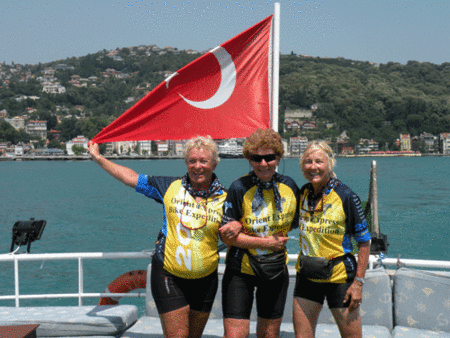 We'd like to introduce 3 participants from the upcoming Trans-Europa, the Pedal Pals!  They rode with us the Orient Express Tour in 2009 and the North American Epic in 2011 and they're coming back to ride from St. Petersburg to Venice.   Daphne Tonellato, Shirley Davey and Walli Pagniello
We caught up with Walli and Daphne to ask some questions about the highlights of cycling and traveling with friends.
What's the best thing about cycling and traveling with others?
Walli:
The team spirit of a bicycle tour is amazing. Being the weakest link (slowest rider) on a tour has not affected my enthusiasm to be part of such an undertaking. The consideration and encouragement from fellow riders when in a tough spot is invaluable. Sharing adventures and sights not seen from the highway forms a lasting bond. The Amber Route Tour brings us into east bloc Countries usually not visited by tourists but well worth exploring.
Daphne:
Travelling by bicycle with a group is the very best way to visit just about anyplace.   Joining a group with a friend is an added bonus. You have someone to share all the adventures of the day with and you are assured that you will not be alone when a flat tire or worse occurs.  Meeting and sharing stories with other cyclist is always positive and with luck some of the new cyclists will become good friends.   Every year but one since 1992 I have shared a cycling trip with friends made while cycling across Canada.
Has anyone you've met on a bike tour inspired you?
Walli:
"Show me who your friends are and I tell you who you are!
My total inspiration for biking is Daphne's fault.  After she completed the Tour du Canada a small group of friends formed and I, by default of speaking German, initially became a support vehicle driver. I enjoyed the camaraderie immensely. But Daphne's persistence to get me on a bike was hard to turn down especially since she gave me one of her "old" bikes to use in 1999, and I have been biking ever since. As she took on tour challenges I was intrigued to find out if I could handle something sooo strenuous. In my retirement year 2009 I joined Tour d'Afrique's "Orient Express" in Vienna. Yes, it was tough in places.  My forte is down hill not up, but the feeling of accomplishment at the end inspires me to look for new challenges.
You have got to move to keep moving!"
Daphne:

I would not say anyone inspired me but there is one person who returns to my thoughts whenever the travels through the 'Navajo Nation' are recalled.  Neil was an older man living alone in a desert area without any of the comforts we consider essential. His home was a very old trailer with recently repaired running water and plumbing.  It was obvious to all of us that Neil was living a very basic life but he was a man of thoughtfulness and generosity.   He moved our camp site to his yard beside his horses, a better choice than the field of desert dirt at the end of a long track. To the few females in the group he offered the very basic facilities of his home. He enjoyed our company and shared his culture and beliefs along with the challenges of life in his desert environment.  In such a short time this kind man stimulated many discussions among the group on culture, religion, politics, history, economics, agriculture and the environment.  We do not often meet one person who makes us stop and think like Neil did.
What's the silliest thing you've seen one of your fellow riders do?

Walli:
Stopping to take pictures of bear cubs in Transylvania ………   and then riding up the mountain pass with mama bear in pursuit. That's brawn versus brain. I would have booted it down hill!
Daphne:
Well I still cannot think of any really silly thing done by one rider.  But I do recall the outcome of a very stormy day in Kansas.   On arrival in camp with a major storm imminent everyone huddled under the shade awning.   After waiting in a warm dry place in town for the storm to pass Shirley and I arrived in camp, few tents were up and it was very crowded in the limited shelter.   It took a very few minutes to realize just how the time had been passed while the wind and rain made life very miserable.  There was no wine left but there was a rather happy group not worrying very much about anything and laughing about everything.