Blog
REGISTER NOW
LOGIN
SIGN UP FOR OUR NEWSLETTER
Rider profile: Jo Beunders – The Gorge – Khartoum to Addis Ababa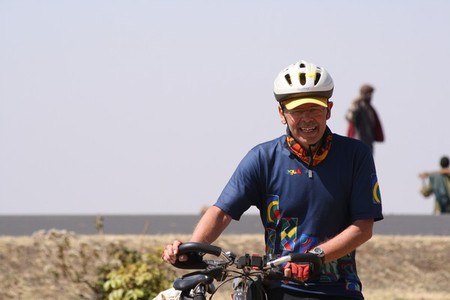 Age: 61
From: Holland
Profession:
Family Doctor Brother in law, Paul told me about it after he had done a part of it two years ago with his daughter, Anke. I've known about it for two years and have been thinking about doing it ever since.
Why are you doing TDA and this section in particular?
I've been for at least cycling years and love riding long distances. This section fit in with the holidays I had available.
Is it what you expected?
It's harder than I thought, mostly because of the extreme temperatures. I went from 0 degrees in Holland to 40 degrees in Sudan.
Is it your first time in Africa?
It's my first time in Sudan and Ethiopia. I worked in Kenya years ago, but I don't remember it being as warm there as it was in Sudan.
What kind of training did you?
I cycled about 40km twice per week.
What do you miss from home?
Nothing, it's good to be away from my business for a bit.
Will you come back to do other sections in future?
You never know.
What do you like most about the tour so far?
The cycling has been superb. Even though I really liked Sudan, I like Ethiopia better. The culture, agricultural fields and their way of life is really interesting.
What do you like most about your bike?
It's a bit heavier so it goes faster downhill.