Blog
REGISTER NOW
LOGIN
SIGN UP FOR OUR NEWSLETTER
V-Day dinner on the TDA/Romance on the Road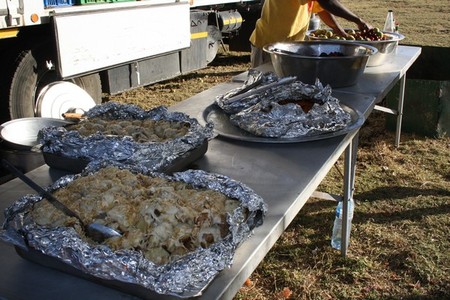 Valentine's day menu:
Baked potato gratin
Warm beet salad with grilled red onion
Mint roasted carrots
For potato gratin –
20 kg potatoes, cut into big cubes
1 kg melted butter
5 heads of garlic, seperated into cloves and smashed with back of knife
salt and pepper
3 kg cheddar cheese, grated
300 g. dehydrated onion to garnish
Toss potatoes in large bowl with butter, garlic, salt and pepper, something 2 people could do together because it is quite heavy to toss. Line 2 hotel pans with heavy tin foil and pour potato mixture inside, cover top tightly with foil. Place on braai ( dump about 10 kgs of charcoal on the ground with some fuel,light, place grill over top ) and let bake about 2 hours. Once potatoes are soft open foil on top and cover with grated cheese and dehydrated onion. Very good stuff.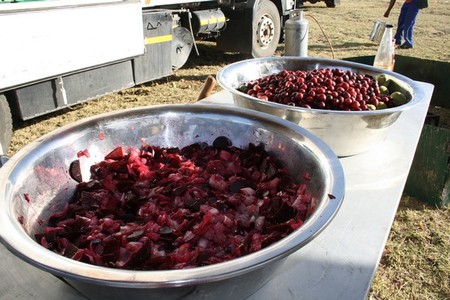 For beet salad –
15 kg red beets, boiled peeled and sliced
3 kg grilled red onion, sliced, seasoned and grilled
1 L red vinegar
1/2 L olive oil
salt to taste
sugar to taste
Once the beets and red onions are ready just make a vinaigrette out of the remaining ingredients and toss everything together. Being conscious of the fact that beets are full of dye and what goes in red comes out red will save many concerns for the medical staff!
For mint roasted carrots –
10 kg carrots, peeled and cubed
1/2 L olive oil
200 g local dried sweet mint
salt to taste
Another one for the grill! Just toss everything together in a bowl and wrap tightly in foil, place on grill for about an hour or until carrots are tender. I love doing all vegetarian meals when possible and this one was by far my favourite.
— Chef Jon