Blog
REGISTER NOW
LOGIN
SIGN UP FOR OUR NEWSLETTER
Rider Profile: Bernard Fisset – Meltdown Madness: Addis Ababa to Nairobi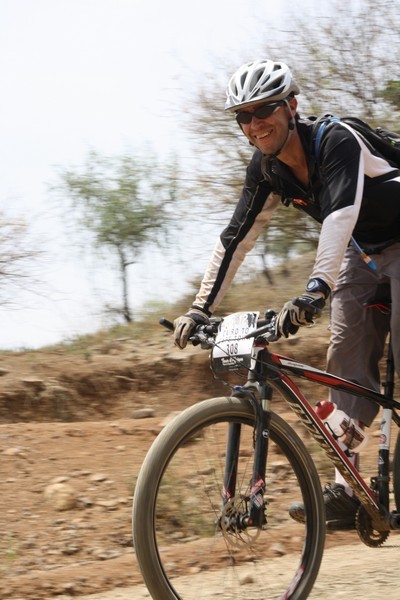 Age: 49
Home: Brussels, Belgium
Occupation: Freelance osteopath & nutritionist

Where did you hear about Tour d'Afrique?
Found the website online 8 months ago. I decided to sign up right away.
Why did you decide to sign up?
I have been a cyclist for many years at home in Belgium and always wanted to ride across Africa. I have been to Tanzania 5 times and started a project there called African Challenge where I try to create job opportunities for the locals by taking guides, cooks and porters on trips to the summit of Kilimanjaro. Coming to work on one of those tours makes them enough money to take care of their family for a month. I also supply them with a backpack in which I put clothes etc to last for a month. Furthermore I also try to supply the local primary schools with whatever school supplies they need. It's only a small project, but it is just me doing it by myself so far.
Why are you doing this section?

I was going to Nairobi anyway for my project – I will do a tour to the Kilimanjaro right after we arrive in Nairobi – so it made sense for me to do the section that finishes in Kenya.
What have you enjoyed the most so far?
The ambiance is great and the organization is very good. I love the surroundings and the beautiful views we get on our bikes and from the campsites.

What on tour has been difficult for you?
The rock throwing kids. People here are not very friendly, I think all the kids is this country are born with stones in their hands!
Climbing or descending a mountain?

Climbing! I'm light, so that makes it easier for me. I did many bike rides in the Alps, summited some of the big mountains of the Tour de France, like the Galibier. I also rode in the Atlas in Morocco. Those trips I either did by myself or with my family and in Morocco with a local guide, but never an organized tour like this.

Kenya or Ethiopia?
I prefer Kenya. People are friendlier there and there is more wildlife.
Breakfast, lunch, soup or dinner?
Dinner is my favorite meal on tour. I also like breakfast but I usually don't have much time left to eat in the morning.

Water or energy drink?
Energy drink! I've brought my own and it keeps me going.

Favorite flavour PVM bar?
Yoghurt- strawberry granola bar. It's too hot for the chocolate ones!