Blog
REGISTER NOW
LOGIN
SIGN UP FOR OUR NEWSLETTER
Rider Profile: Carla White (Full Tour)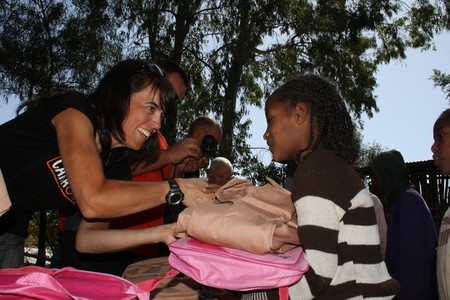 Hello fine people of the interwebs. Today we will be talking with one of the toughest women in Africa, Miss Carla White.
Tour D'Afrique: Hi Carla, thanks for taking time away from your book and lounging around with your feet up to give us a little insight into who and what you are. First up, where are you residing these days?
Carla White: I live in Calgary, Alberta right next to the stampede.
TDA: How did you find out about the tour?
CW: I was at a cousin's wedding about two years ago and I was introduced to a guy who had done the tour in 2010, now I'm here!
TDA: Are you an experienced cyclist then?
CW: Not even close! I hadn't owned a pair of bike shorts till a year ago. When I went to the shop to get my bike they laughed at me for saying I needed a grandmother gear. I think I'm getting the hang of it now…
TDA: Well a grandmother gear is very close to granny gear! Well now that you've been on that bike for a while do you have a special relationship with it?
CW: Ha, during the climb out of the Blue Nile Gorge we had a little discussion my bike and I. We determined if we were going to make it up that hill we'd need to work together, it would be a team effort. It worked! We made it!

TDA: I see you have some pretty nice Carla Bikes Africa jerseys, can you tell me about that?

CW: I started a fundraiser called Carla Bikes Africa to End Energy Poverty. I was trying to find a way to link communities and seeing that my home of Calgary is a major energy producer I thought it would be appropriate to make that my connection. The U.N has made its mandate for next year to end energy poverty by moving away from dirty forms and towards sustainable sources. I raised enough funds to donate 10 solar powered lanterns to communities in countries along the TDA route. The final community in South Africa will also receive a wind turbine and even better for me, I get to spend a week with them!
TDA: That sounds amazing, nice effort Carla! Quick question, pick one, gastro illness or kids with rocks and sticks?
CW: Well since I haven't been sick yet I'll go with the kids with rocks.
TDA: That's interesting because as sometimes happens on tours like this people get injured. Carla you're pretty banged up, can you tell us what happened?

CW: I was riding through a village when a group of girls jumped in front of my bike. This wasn't new but one of the girls wasn't quick enough to get out of the way and I ran into her. I ended up going over the handlebars and landed on my shoulder.

TDA: This where the tough woman part comes in, what happened next?

CW: Well after I figured out what happened I thought maybe I had dislocated my shoulder so I spent a while trying to get it back 'in'. When that didn't work I got back on my bike and rode 12kms before I needed to stop for water. When I tried to get back on my bike I realized I couldn't get started again with only one arm so I had my friend Jennifer push my bike for me and I walked the last kilometre to camp. In the end I had separated my shoulder so trying to put it back in wasn't such a great idea.
TDA: Anything you wish you had on the tour?

CW: The food has been amazing and I'm getting plenty to eat but regularly I wake up in my tent in the middle of the night and wishfully hunt through my pack looking for treats. Alas there's never a pineapple pizza hidden deep in my bag. Snacks are gold out here.
TDA: Any good story from the trip so far.
CW: I had an amazing Ethiopian experience with a young boy named Adam in Gondor. I went to the uniform donation ceremony that TDA had organized and ended up getting sort of lost trying to get back to the hotel afterwards. This young boy approached me and offered to help me find my way. We ended up talking and the discussion turned to snow. He had no idea what snow was and I did a horrible job explaining it. We ended up spending the following day together and it was one of the most rewarding days I've had.
TDA: Well thank you very much Carla, we're looking forward to getting you out of that sling and back on your bike. Check out Carla's blog.