Blog
REGISTER NOW
LOGIN
SIGN UP FOR OUR NEWSLETTER
Rider Profile: Walter Luetolf – Cairo – Lilongwe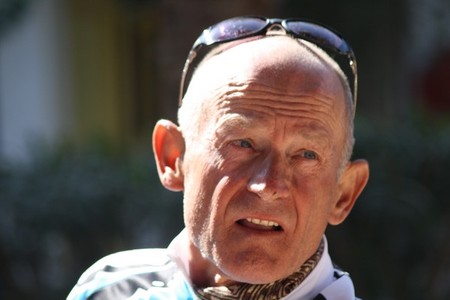 Today we have the opportunity to one of our sectional riders Walter Lutolf, he has been riding with us since Cairo and will be heading home in Lilongwe.
Tour D'Afrique: to start Walter, where do you call home?
Watler Lutolf: I am Swiss but have been living in South Africa for the last three years.
TDA: when and where did you first hear about the Tour and what made you want to do it?
WL: I read about the TDA four or five years ago when I came across the website while searching for another trip. I liked the idea of seeing Africa from the inside. When I moved to South Africa I knew I had to do it. It ended up being my present for my 60th birthday.
TDA: is this your first tour by bicycle?
WL: No, no, no, I've been cycling touring since my early 20's. I've spent all my life doing bike tours and taking cycling vacations, in fact my wife and I make sure all of our vacations have cycling involved. I've worked as a guide with some of the largest bike tour companies in Switzerland.
TDA: that sounds great, was it difficult convincing your wife to let you be away for so long on this tour?
WL: well it took me a while to convince her but once I had she was very supportive and actually helped me with a lot of the preparations and organization to get me to Cairo.
TDA: since you're not travelling with your wife on this trip have you found it easy to find riding buddies on the tour?
WL: oh yes, I have a great group of people I ride and socialize with. We've become good friends and enjoy our riding days together. Recently it was difficult when we lost one of the team members to injury (get well soon Klaus!) but we still stick together.
TDA: how about your bike choice, are you happy with it so far.
WL: I am pleased I chose a full suspension mountain bike. It's a little bit heavier than some bikes but the comfort and the extra control on the rough days is a big advantage.
TDA: are you mainly a mountain biker?
WL: since I've moved to South Africa I've been doing more mountain biking but I also have a road background.
TDA: have you had any highlights from the tour so far?

WL: I really enjoyed our day riding around Mount Kenya, it was beautiful. A new experience for me has been camping and sleeping in a tent. Lying in my tent at night with a sky full of stars is amazing.
TDA: you were involved in some fundraising, what did you do?
WL: a friend and I (mainly my friend) donated seven bicycles in Ethiopia and some school uniforms to the children.
TDA: seven bikes! That's great! Any final tips for future tour riders?

WL: life is so much easier on the tour if you stay organized. People are always losing things on tour and you have a hard time replacing things in Africa. Also on rest days I would take some time to look at your options for hotels and restaurants. With a big group like this everyone ends up in the same place and you may be missing out on some great options.
TDA: great advice, thank you very much Walter!