Blog
REGISTER NOW
LOGIN
SIGN UP FOR OUR NEWSLETTER
TDA Foundation Donation Ceremony – Nairobi, Kenya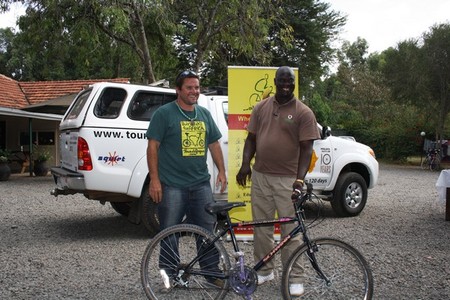 Sunday's bike donation ceremony in Nairobi was attended by Wheels of Africa (WoA), who were providing the bikes, the two recipients of the bikes ( Arrow Web Hospital and Kijiji Cha Upendo), Students In Free Enterprise (SIFE) Kenya, who are working with WoA to develop Nairobi's first bike hire business for local university students and EcoTourism Kenya, who have recently formed a partnership with Wheels of Africa as well.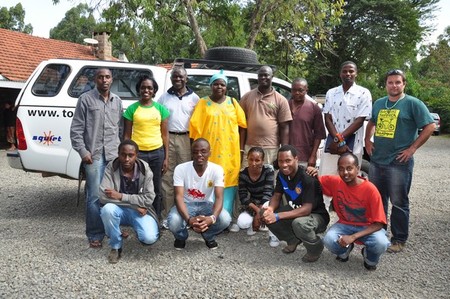 The ceremony was organized and hosted by Wheels of Africa who we are worked with for several years now. Twelve bikes were donated to Arrow Web Hospital, my old friend Bramuel Simuel was there to receive the bikes. Arrow Web has grown it's health outreach program significantly since we first met them in 2006 and we're happy to continue to play a role in that programs growth.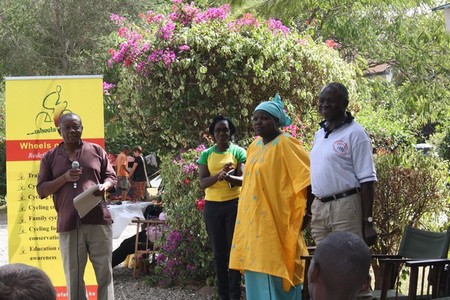 This year marked our first donation to Kijiji Cha Upendo, an organization that provides financial and logistical support for families who have adopted orphans. Kajiji received 12 bikes which will be used by their out reach workers.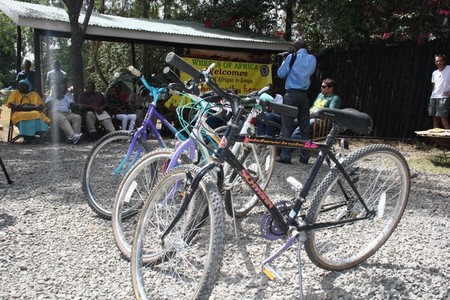 The student entrepreneurship group SIFE Kenya also attended the ceremony to give a report on a pilot project they have started with WoA and 2012 TdA Rider Peter Hille. The project aims to start the first bike hire business in Nairobi to offer people an alternative way to commute to school.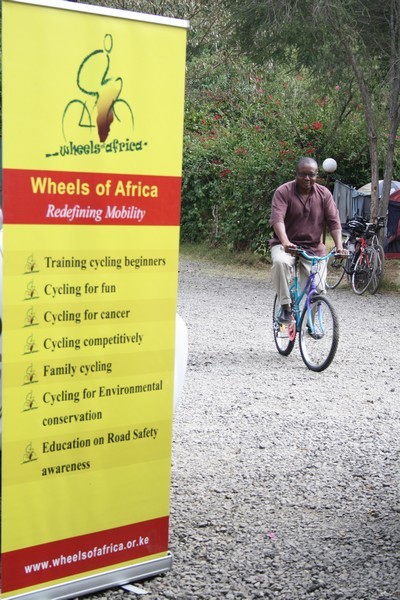 Starting next semester the students of Strathmore University will compete is a business plan competition to design a profitable business model for the bike hire scheme. Winners will be given the opportunity to start a bike hire business with bike from Wheels of Africa. Initial plans and tests indicate the hire a bike for 100Ksh ($1.20 USD) per ½ day provides transport that is cheaper than using local mini buses and would provide enough income to make the bike hire business profitable. More information on the bike hire plan in future posts.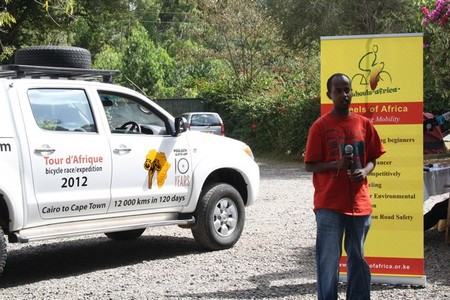 Finally Kahindi from EcoTourism Kenya spoke about the opportunities he sees to make Nairobi a truly bike friendly city and the need for increased partnership between local bike organizations and Tour d'Afrique. Kahindi is passionate about cycling as a means of transport and recreation in the city and has been working hard with government officials to increase awareness about the laws that protect Kenyan cyclists on Kenyan roads.

It was a ceremony full of promise and optimism to be sure. It seems the cycling landscape in Nairobi is rapidly improving as partnerships are formed between like minded individuals and organizations. I think big changes are coming to the Nairobi Cycling scene, stay tuned.
The Tour d'Afrique Foundation supports outreach workers in various countries in Africa by providing bicycles to them so they may travel more efficiently and serve more people. Studies have shown that a health outreach worker can reach up to 5 times as many patients by using a bicycle and they can by foot.
The Foundation relies on donations from people like you. Donate to the Tour d'Afrique Foundation.
Related links:
/blog/foundation/buy-a-bike-for-africa

/blog/foundation/cool-cinelli-stuff-great-cause

/blog/tourdafrique/two-beautiful-days-the-bahir-dar-bike-donation-ceremony