Blog
REGISTER NOW
LOGIN
SIGN UP FOR OUR NEWSLETTER
Tour d'Afrique Race and EFI Update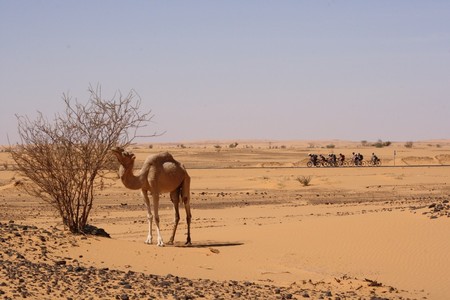 The 2012 TdA has reached Arusha Tanzania which marks the midway point of our annual trans-African odyssey on two wheels. With three days off, the staff are seeing that the support vehicles are serviced and the food bins replenished. Many of the riders are on safari to Serengeti and Ngorongoro Crater parks while others are kicking back at Masai camp and gearing their energy back up for the 2nd half of their journey of a lifetime. This is the perfect time to recognize some of their accomplishments so far. After 5119 km of racing out of 5521 total km since the tour departed Cairo, Switzerland's all rounder Christian Sailer has become the man to beat. Stuttgart's Raffael Schrof, who led until southern Ethiopia, is now in 2nd, with Chicagoan Bryce Walsh in 3rd. They are well clear of Canada's Adam Lister in 4th and it will take remarkable luck and effort for any of the other men to knock them off the podium before Cape Town.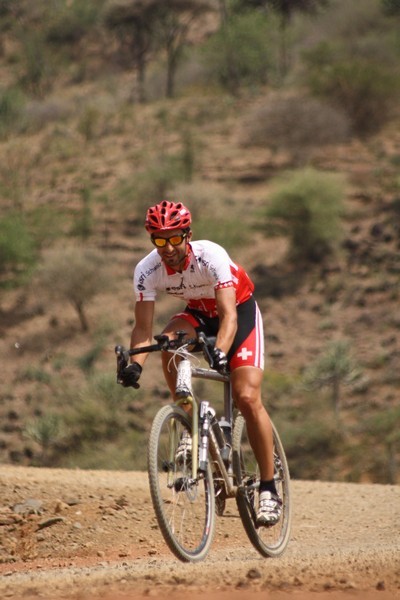 Race Leader Christian Sailer
Among the ladies Dutch dynamo Femke Nelissen has opened up a substantial advantage over her nearest competitors. Australian Esther Borg, Brit Jen Davenport and Irish lass Marita Reilly appear to be more focused on inhaling Africa and maintaining their EFI status than winning the race.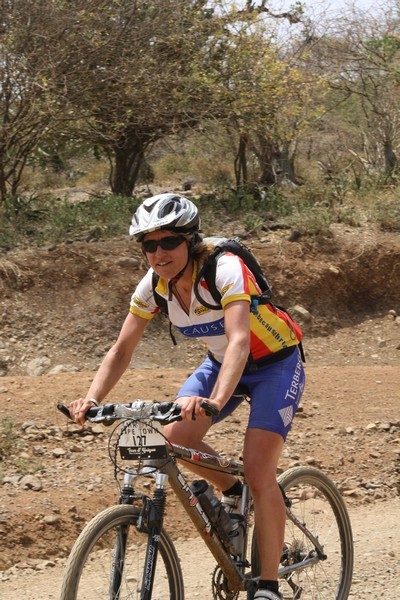 Women's leader Femke Nelissen
All told 26 full tour-ists are still classified as racers and being timed. Here are the standings after 48 of the Tour's 94 stages, including cumulative times, and adjusted times with the 5 allowed grace days deducted.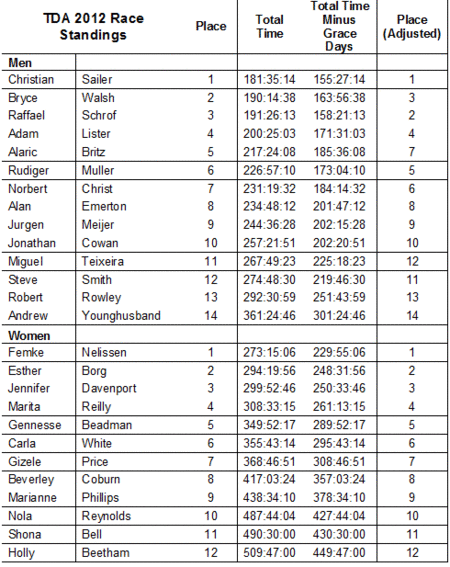 For the latest stage times and overall standings, you can always visit our race results page.
The EFI Club: 14 intrepid souls remain
Meanwhile, 14 intrepid souls remain in the 2012 EFI Club which is the designation we dedicate to those riders hardy and fortunate enough to manage to cycle every fucking inch we throw at them. Through the off roads of Sudan, the long climbs of Ethiopia and the brutal lava rock road of Northern Kenya these 10 men and 4 women have rolled into camp every day so far, determined to join this exclusive club: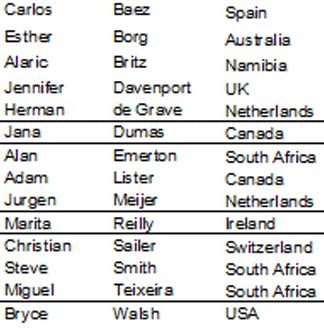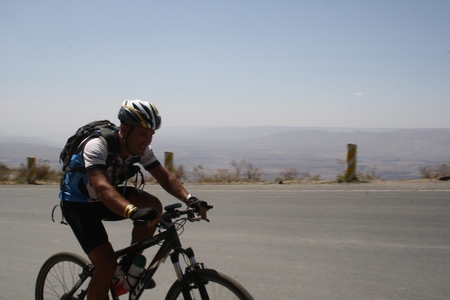 EFIer Miguel Teixeira climbs the Blue Nile Gorge

Tomorrow the Tour starts heading southwards again, on the Masai Steppe section across Tanzania. We wish all the riders happy cycling and good luck as their goal of reaching Cape Town draws a little closer every day.