Blog
REGISTER NOW
LOGIN
SIGN UP FOR OUR NEWSLETTER
Trans-Europa by Bike: An Adventure Unlike Any Other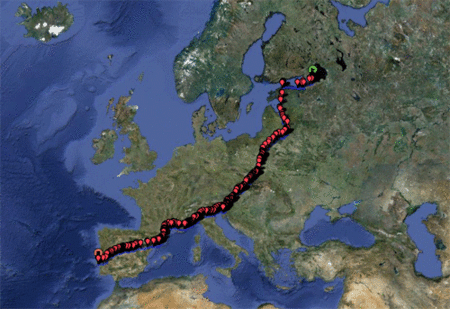 Every year thousands of people dream of traveling across Europe. The options for how to do so are numerous. Short of flying, you could for example:
Walk across it, which took Gary Hause, the "Walking Man", 147 days. The most famous walks are pilgrimages to Santiago de Compostela in north-western Spain, the routes for which start as far away as Scandinavia.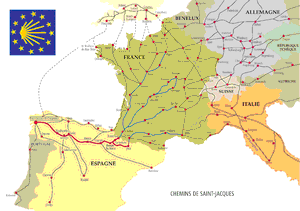 Source: Wikipedia
Barge across it: European Waterways offers a 6 week 1000 mile cruise along Western Europe's finest inland waterways between Avignon and Amsterdam for a mere (?) $700/day.
Sail around it. TransEurope Marinas includes 47 members, from the Scottish highlands, to the Mediterranean. All you need is to become an annual berth holder …
Rail across it. From 1957 to 1987 you could take a TEE (Trans Europ Express) network train between 130 different cities, from as far as Copenhagen to the toe of the Italian boot. Today you can climb aboard a TGV (Trains à Grande Vitesse) which will whisk you from Paris to Moscow in 24 hours 15 minutes for under $600. But you'll miss most of the sights en route…
Bus through it. Busabout offers a hop-on hop-off three loop route that covers 9 countries and 33 destinations including Amsterdam, Vienna, Rome and Madrid for $1450 that can be done in as little as 6 weeks. But who wants to sit on a bus for that long?
Or you can bike across it, as we like to do. Drawing from our Orient Express and Amber Route tours, we've designed what we believe is the longest organized cycling tour across Europe. Covering a distance of 6250 km from St Petersburg, Russia to Lisbon, Portugal over 2 ½ months and 14 countries, the epic Trans-Europa offers participants an adventure of a lifetime. Not only does it provide the opportunity to immerse oneself in many of Europe's rich cultures and histories, but you will also get in terrific shape doing so. And at a cost of less than $200/day including meals, lots of hotels, and a sag wagon, it truly is a great deal!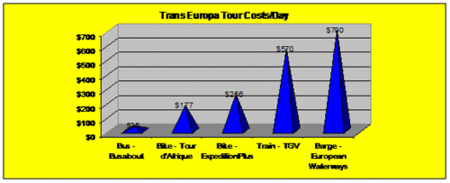 The Trans-Europa is also inspired by EuroVelo, which is a project of the European Cyclists' Federation (ECF) to develop a network of high-quality cycling routes that connect the whole continent. Currently comprising 14 routes, it is envisaged that this 70,000 km network will be substantially complete by 2020.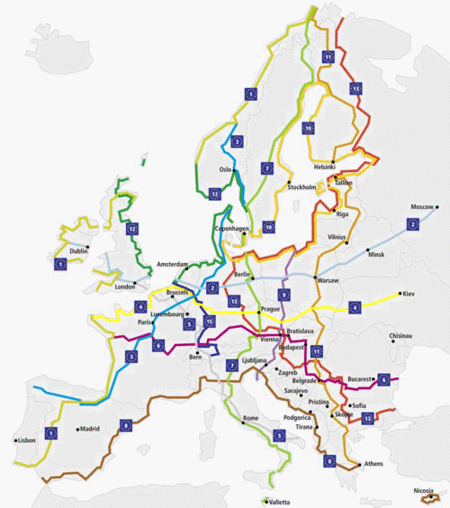 Source: Eurovelo.com

3 of the EuroVelo routes will be traversed during the Trans-Europa, including:
– The Iron Curtain Trail along the coastlines of Estonia and Latvia
– The Amber Route across Poland, Slovakia, Hungary and Slovenia to Venice
– The Mediterranean Route across the Italian, French and Spanish Rivieras
If you don't have the ability to take 2 ½ months off, why not become part of our tour for one or more of its several sections, each of which lasts between 1 ½ and 2 ½ weeks? For example, you could "Bike the Baltics" from St Petersburg to Vilnius in mid-July, cycle across the foothills of the Alps and next to the Adriatic Sea for 10 days in August, or spin your way across the Iberian peninsula eating tapas from Barcelona to Lisbon in September.
We hope you will consider joining us this summer! For lots more information on the Trans-Europa cycling expedition please visit: