Blog
REGISTER NOW
LOGIN
SIGN UP FOR OUR NEWSLETTER
Another One Bites the Dust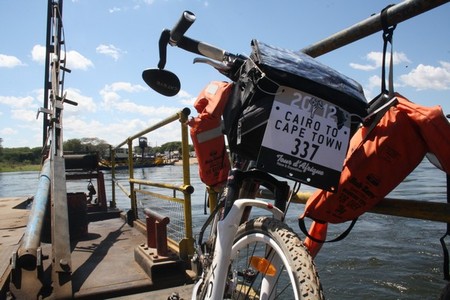 We've become real expert with these border crossings now. Not even another ferry crossing can scare us and as we crossed from Zambia to Botswana a few days ago no one even shuddered when they had to face the ferry on their own.
OK granted, this ferry was considerable easier than the previous one we had to negotiate from Egypt to Sudan. Compared to the almost 24 hour ordeal where it felt like we were fighting for every inch of space for most of this time this week's crossing was a breeze!
In seven easy steps:
1. Arrive at customs office in Zambia, get exit stamp in passport.
2. Board ferry with bike.
3. Cross Zambezi in 20 minutes.
4. Depart ferry with bike.
5. Get entry stamp in Botswana.
6. Roll bike through anti-foot-and-mouth fluid and head to camp.
7. Make sure you're on time to board the Chobe express to view elephants from the water.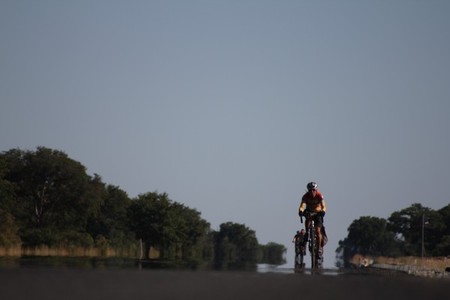 Since arriving in our eighth country we've been making up some mileage we lost during the off-road sections earlier in the tour and we'll be averaging about 160km a day until we reach Windhoek. The roads are long, flat and straight and it is easy to lose your mind when you have to keep yourself occupied for six to eight hours in the sun. More often than not we wonder if we really are seeing elephants next to the road or if we're just hallucinating. However, we are on the elephant highway after all and most of us have seen several elephants, giraffes, warthogs and kudu in the past few days.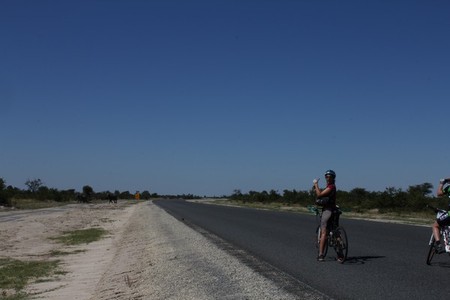 For those who were not lucky enough to see game from their bicycles – most definitely a different experience than seeing it from the back of a safari vehicle – one elephant went to the trouble to visit us in camp one afternoon… A jaw-dropping experience and the fastest way to get 50 cyclists dead quiet in less than 30 seconds.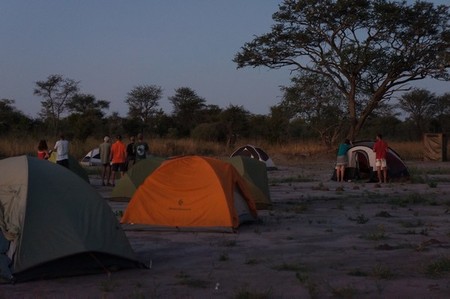 We're halfway done with our little detour to the west now and soon we'll be heading further south. We have less than a month to go, less than a quarter of the distance left and only two countries. Feelings are mixed as we head towards the end of our intrepid journey and it still seems a little surreal that we'll be in real beds with real sheets sooner rather than later. But until then, we'll enjoy the elephant visits at night, eating from bowls, the damp tents and the dirty sleeping bags.
You only get to do this once, after all.
— Catharina Robbertze