Blog
REGISTER NOW
LOGIN
SIGN UP FOR OUR NEWSLETTER
Rider Profile: Kerstin Lehmann – Nairobi to Lilongwe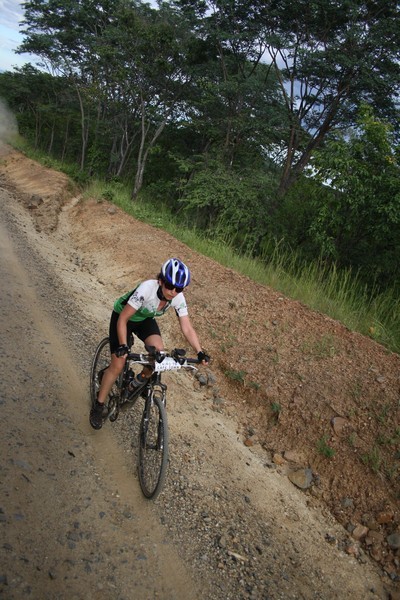 From: Germany
Age: 32
How did you hear about the TDA and why are you joining the tour?
A friend of mine told me he would join the full tour and immediately I was stoked and so I decided to join as well, within my possible time limits. As a Geographer I'm keen to experience African countries by bike, get to know the people and countries on this scenic route.
Favourite PVM bar?
Choc Cranberry iSnack!
You just won stage 52. Did you think you could win a stage before you came to Africa?
NO! At first I thought I shouldn't race because I would be so distracted from the country and people around me, but then I joined and immediately got that Stage Winner Plate! I was very happy. I think I was lucky.

Is there something you already miss about home?
CHEESE!
What luxury item would you wish for right now?
My boyfriend, but since I already have him here, I don't miss anything.

Which question would you ask if you did a rider profile?
"What kind of people actually join this expedition / crazy trip for four months?"

So if I asked you that question, what would you say?
It's a very mixed group of people, some of whom I had never expected to join this tour! I imagined a group of ultra-trained sports cyclists, geared up and going very fast and being very competitive. But then they are all so different, and still enjoying it every day!
Did you feel welcome as a sectional in such a big group that already travelled together for over three months?
Yes, I might have the advantage of my boyfriend being a full tour rider, but after two days I felt like being here for two months. It's a very welcoming crowd.

Last words?
People here are so unbelievably friendly along the route, it feels like Tour de France every day!
— Benjamin Georg