Blog
REGISTER NOW
LOGIN
SIGN UP FOR OUR NEWSLETTER
TdA Race & EFI Update – One Section To Go!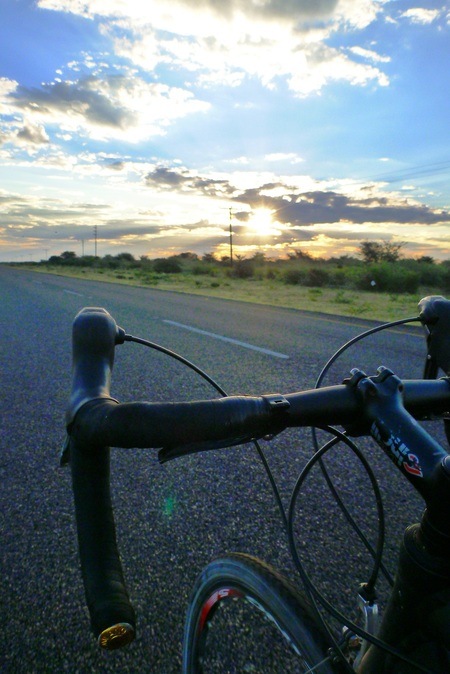 As of Windhoek Namibia which marks the beginning of the Diamond Coast, the Tour's 8th and final Section and the "top of the home stretch" 14 intrepid souls were still "EFI" having ridden Every F*cking Inch since they jumped on their bikes at the Pyramids some 15 weeks and almost 10,000 km ago. Through the heat of Sudan, the long climbs of Ethiopia, the brutal lava rock road of Northern Kenya, the Tanzanian mud, and the long flat Botswana days these 10 men and 4 women have rolled into camp every day, determined to join this exclusive club. And now their goal is almost in sight …
2012 EFIers as of Windhoek

Carlos

Baez

Spain

Esther

Borg

Australia

Alaric

Britz

Namibia

Jennifer

Davenport

UK

Herman

de Grave

Netherlands

Jana

Dumas

Canada

Alan

Emerton

South Africa

Adam

Lister

Canada

Jurgen

Meijer

Netherlands

Marita

Reilly

Ireland

Christian

Sailer

Switzerland

Steve

Smith

South Africa

Miguel

Teixeira

South Africa

Bryce

Walsh

USA
With 9085 km of racing completed out of 9961 total km since Cairo, Swiss all rounder Christian "Clockwork" Sailer is still in the driver's seat. After the 5 allowed grace days are factored in, his lead over Germany's Raffael "Giraffe" Schrof is just under 2.5 hours. American Bryce "Ultraman" Walsh is maintaining his grip on 3rd , with young Canadian gun Adam "Powerhouse" Lister in 4th, and Alaric Britz, now riding across his home land of Namibia in 5th. All the top men worked together on the 207 km "big kahuna" from Botswana's wild west town of Ghanxi to the Namibian border with the aim of breaking Jos "the Animal" Kaal's 2008 record time of 5:46. Despite fighting headwinds for the last 80 km they succeeded when Raffa crossed the finish line in 5:41, just ahead of Bryce, with Jon Cowan, Christian and Adam also coming in under 6 hours.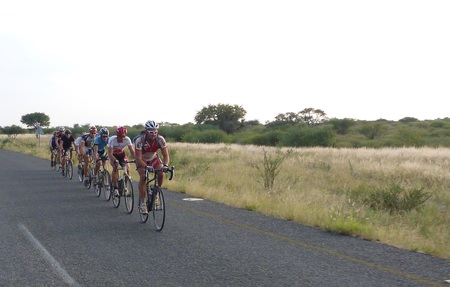 Tour Mechanic Doug Percival pulling the Longest Day Peleton
Among the ladies Dutch dynamo Femke "Fembot" Nelissen holds a huge advantage over her friendly fellow competitors, Brit Jennifer "Mother Hen" Davenport, Aussie Esther "Easter Egg" Borg, and Irish lass Marita Reilly who are more focused on inhaling Africa and maintaining their EFI status than on racing hard, although Femke and Jen also went for it on "the Longest Day" coming in just a few minutes behind Gizzy Gartmair's women's record of 6:23.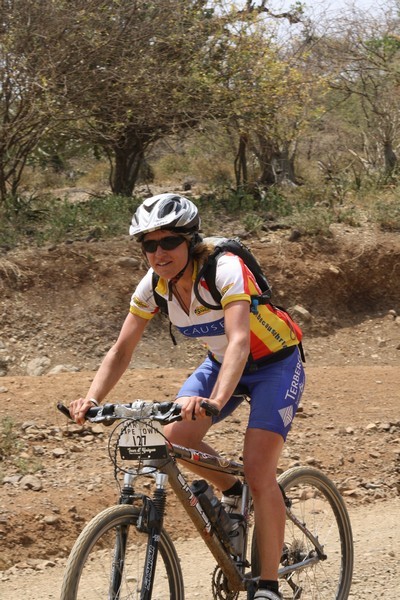 Leading Lady Femke Nelissen
With the number of opportunities dwindling, several other racers realized it's "now or never" and rode like mad men and women to grab their elusive first stage winner plates in Botswana and western Namibia. Now with 14 stages and 1732 km to go – over half of which is off road, it's evident that Femke will add her name to the list of TdA Race Champions. Christian on the other hand cannot afford to stop putting pedal to the metal or a major mechanical problem.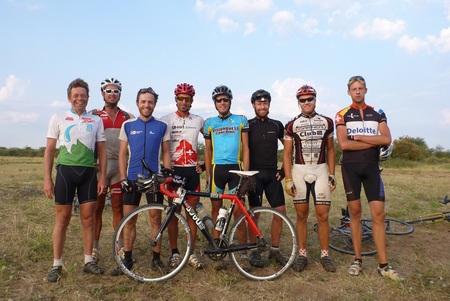 The Longest Day Race Team: Jurgen, Douglas, Peter, Christian, Bryce, Jonathan, Adam, and Raffael
Here are the overall standings after 80 of the Tour's 94 stages, including cumulative and adjusted times: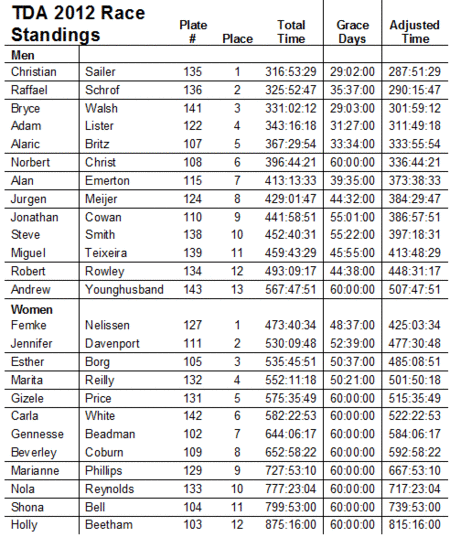 For the latest stage times and overall standings, please visit our race results page here.