Blog
REGISTER NOW
LOGIN
SIGN UP FOR OUR NEWSLETTER
Jan Kremer Makes the Most of a Day
As the 2012 Silk Route Tour continues west, we wanted to share some writing by Dutch rider Jan Kremer. Jan's account of the day-in-the-life on the Silk Road was inspiring, and really helps illustrate the importance of taking a few detours. The text and the pictures are all from Jan; to read more about his Silk Route adventure visit http://www.jankremer.net/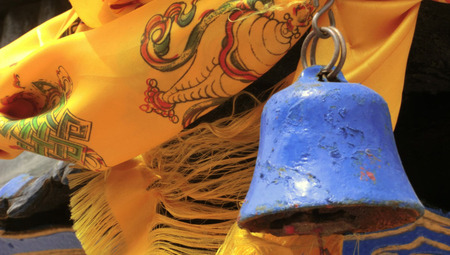 This was a great and beautiful day!
The daily riders briefing: 148 km, climbing slowly all day.
Leaving town, the road is closed for traffic due to a big marathon (30,000+ runners): no cars, buses or trucks, and completely free for the group of Silk Road riders. Approximately 15 kilometers through the city on bicycles, riding in the middle of the streets! Sightseeing at its best! Soon after these easy going 15 km, the group splits into smaller groups, most riders teaming with a person usually riding at the same pace. Candice and I usually ride together and since we haven't seen each other on the rest day, we soon were catching up. Before we know it we were already at the lunch place, halfway through the 148 kilometer trek.
Ingrid made a great lunch: spicy meat with grated carrot and cabbage, sesame oil and vinegar, sliced tomatoes and cucumber (which is always tasty and crispy) and a little mustard! Ingrid had also fresh mangos! Delicious!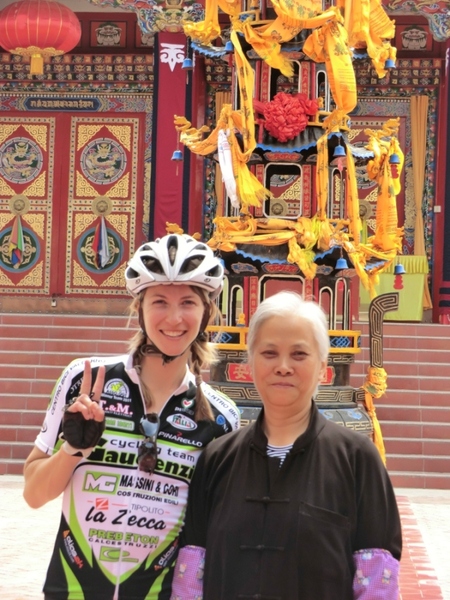 I had bought an orange juice and an iced tea for lunch, which I'd probably drunk a little too quickly. When we drove away my stomach felt like one large water bottle so we drove the first kilometer easy. When we saw a little temple through an open door, we decided to make a stop and have a look. We parked our bicycles inside and had a sit under a large bell. That helped a lot. The temple was incredibly beautiful and well maintained, or just new, and a woman invited us for a walk around the complex. Gorgeous colors! Beautiful drawings and carvings, great Buddha images and sculptures, impressive prayer wheels, very nice painting.
Buddhism is something I'm interested in, but I have actually never studied it in detail. Nevertheless, based on gestures of the woman, and according tradition, we bowed and kneeled three times before Buddha. That was somehow a special moment!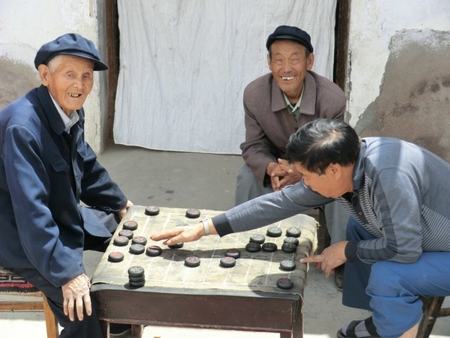 Candice and I often ride together, and sometimes we don't. Sometimes there is a photo moment, toilet stop or a nice view. Then we're one or more kilometers apart. We have the same interests, good conversations, the same pace and share the way we want to experience China by bicycle. She's a great Silk-Road-cycle-friend! Today, somewhere along the trek, Candice was approximately one kilometer behind me and I had just taken a picture of some old men playing chess. A minute later, I didn't see Candice anymore so I slowed down a bit. After another minute she was still not within sight and after 5 minutes I decided to go back. Accidents happen and I was a bit concerned, but when I met Mun Yew she said that Candice was playing chess with the old men! And indeed, she wanted to take a picture and could not refuse the invitation for playing a game. We watched the game for half an hour or so while drinking a cola, when one of the old men invited us at his place. Such an invitation is obviously great! After about 15 minutes we arrived at the house of the old man (sorry, I didn't really catch his name). His wife was waiting for him and you could see she was somewhat surprised that her husband was accompanied by two foreigners. She made a cup of tea for us and we got a slice of cake and a piece of turnip (?). The "cake" was more a piece of very dry bread and difficult to eat, but the people were just so super friendly. I wish we could have talked more than we did; not knowing the Chinese language makes it quite difficult to communicate.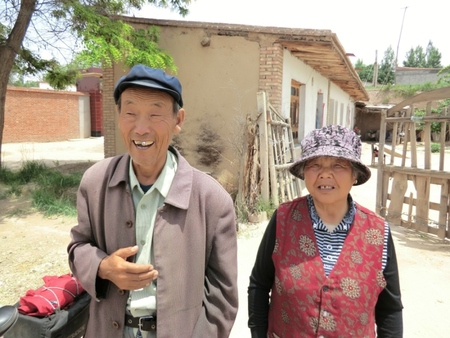 Their living room, basically their whole house, is approximately 6 by 6 meters, and contains a wooden stove with two burners, a dresser, a desk, a bench, and a very large, hard bed. With gestures we found out that these people have a son who lives in Lanzhou. The old man looked carefully at the post card I brought with me of the Netherlands. He recognizes some pictures, like a goat and with some gestures that one of the old buildings in Amsterdam is a house. But how do you explain 'cheese'? Cheese is something that you can eat, and that's OK. He finds a covered wagon with a horse in front very interesting. We try to explain that we are traveling by bicycle from Shanghai to Kashgar. We are not trying to explain that our actual goal is Istanbul since we noticed that many people find that hard to imagine. We get a warm goodbye as we head back towards Tianzhou on our bicycles. What a great friendly people! It is without doubt one of my best experiences in China!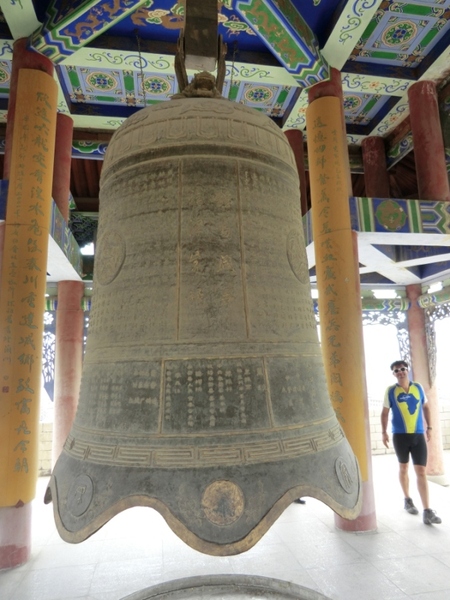 At the moment we hit the main road again, we run into Nate. He is very surprised to see us because normally he never sees us at the back of the group. He is 'sweeping' and securing no one is left behind. We drive some time together and at one point Candice heads in front of us. Her music gives her some extra speed and the distance between us increases until she is out of sight. Nate and I talk quietly and peddling easy. With 30 kilometers left, we arrived in a village with a temple on a hill. We are in for a break and park our bikes down the hill. What immediately strikes is something you can't ignore:a local music concert organized by and for about 80 people. I can tell you that you would never hear this on the radio. We walk around and look from above the hill over the city. It is interesting to see how China can combine ancient culture with a less beautiful, modern society. With a little head wind and a few small drops of rain, we arrive at our Tibetan hotel in Tianzhou.
Tianzhou is a town in the southwestern corner of Gansu province and is home to a large ethnic Tibetan population. Whether it is due the autonomous regions own powers or not, Tianzhou is a clean and somehow idyllic mountain-like city. The hotel is situated just off the road and has a great shower and a super firm mattress. What more could you want? The hotel also has restaurant and it's my first experience with the famous Yak. Its meat is actually quite good. Nice and firm!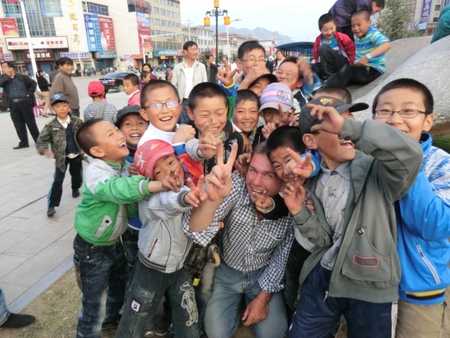 After dinner I have a walk with Nate and Ingrid, looking for typical old Chinese-man sunglasses! The ones you see many old men wearing. It is real glass and heavy on the nose! But it's great! On a square, we see a group of people ball room dancing and of course the usual sight: a group of women-dancing and doing light gymnastics. Two young girls offer Ingrid a homemade bracelet to her surprise, really great! I climb on a large rock with a lot of children and in the shortest time they are hanging over me. We're taking some pictures and show them. They laugh and get even wilder. It is funny to see that all the girls get around Ingrid, and all the boys around Nate and me. There are some English words here and there, but mainly it's laughing and giggling.
In the lobby had a nice conversation with Chris, and then my battery was empty. Time to go to bed. What a great day it was!