Blog
REGISTER NOW
LOGIN
SIGN UP FOR OUR NEWSLETTER
Rider Profile: Dudley Jesser
Meet Dudley Jesser, a proud Queensland Aussie and full-tour rider on the Silk Route 2012. Dudley has done a lot of cycle touring in Australia and his quick sense of humor and thick Australian accent keeps things interesting on the road (although perhaps a bit confusing for our local guide).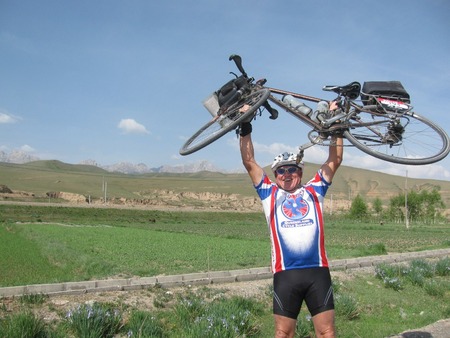 TdA: Hey, for posterity, tell us your full name, age, occupation and anything you'd like to tell us about yourself.
Dudley: My name is Dudley Lin Jesser. I'm 25 and just had a hard life. No, actually, I'm 65 and I'm a retired mechanical engineering contractor – I did mechanical and fitting work. I'm from Adelaide Australia, that's where I was born, and now I live in Townsville Queensland.
TdA: Do you have any favorite ride that you do there?
Dudley: Most probably going out to my home to the top of Harvey's Range, a 68k round trip. Its four K's pretty solid climbing and a beautiful descent with long sweeping curves. I spin out and can't pedal any faster. It's a good ride.
TdA: Why did you choose the Silk Route bike tour for your next adventure?
Dudley: Because I thought it would be great to visit these countries. I've only been to China once before and I wanted to see it again. Also, in Turkey I'll want to see where the Australians fought in Gallipoli. That's something I've wanted to do, because I was serving soldier in the Australian army and have always been interested in war history. To me it's a bit of a pilgrimage.
TdA: What makes you a little nervous about this trip?
Dudley: Nothing.
TdA: What do you look forward to the most?
Dudley: Going down to Gallipoli will be exciting because that was the war that forged Australia as a nation. I'm a proud Aussie. I like to share some of the unique things of Australia with people.
TdA: What kind of bike are you bringing?
Dudley: It's a steel Baum with 29" wheels and a Rolhloff hub in the rear and a Shimano Dynamo hub in the front. Everything else is very standard. I keep the two bags with everything in them too – to maintain the bike and fix anything that comes up, but this bike is purpose-built for this tour. It's bomb proof!
TdA: How have you been training? Do you feel prepared?
Dudley: I feel prepared. I rode down to Brisbine and back, it was 3100km and I took my little BOB trailer with my necessities in that for camping and all that. I just basically rode about 100km a day. I did it in the hot part of the year to sort of condition myself for the heat in the desert.
TdA: If you could give one piece of advice to someone going on their first tour with us what would it be?
Dudley: Come with an open mind and an open heart and enjoy it.
— Nate Cavalieri