Blog
REGISTER NOW
LOGIN
SIGN UP FOR OUR NEWSLETTER
Rider Profile: Pascal Duquette
Pascal Duquette has the dual distinction of being among the youngest and speediest riders of the 2012 Silk Route. From Montreal-via-Melbourne, Pascal often arrives at camp before the lead vehicle's engine cools off and spends nearly as much time cleaning his bike as he does riding it. As part of our series of Rider Profiles, we caught up with him after a ride to chat about the Silk Route and the relatively undervalued importance of looking sharp on the road.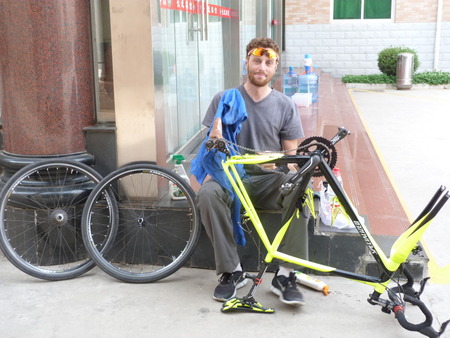 TdA: For posterity, tell us your full name, age, occupation and anything else about yourself.
Pascal: I'm Pascal, I'm 33 and I guess you'd say that I'm an unemployed banker. I've been living in Australia but I'm from Montreal and I'm moving back to Montreal after this trip. I want to go back to live amongst my people.
TdA: When not in China, do you have any favorite ride?
Pascal: In Australia there's a race from Melbourne to Warnnambool. It's a 270 kilometer race and the two times I've done it were both hard weather – headwind, fairly cold, rainy – but it's just a really fun race to do and something that you're really happy to finish. If I had a ride that I'd go back to Australia to do, that'd be it.
TdA: Why did you choose the Silk Route bike tour for your next adventure?
Pascal: I was looking for a long bike trip to do and the timing was very convenient – it was perfect. I've crossed Canada before, and I've never been to Asia, so it was great. And so that Dudley Jesser [note: another Silk Route rider, sitting next to Pascal at the time of the interview] would have a chance to meet me.
TdA: What makes you a little nervous about this trip?
Pascal: The food makes me nervous, just because I'm very conscientious about food and I'm very conservative about what I eat. I know I'll have to get out of my comfort zone a little bit and that's intimidating. Aside from that I'm not too concerned about the tour.
TdA: What do you look forward to the most?
Pascal: Iran. I think Iran is what I look forward to the most because it is a country that we hear a lot about but I've hardly ever met someone who actually has been to Iran. To see it first hand and to gain a firsthand appreciation about what it might be like is something that I'm really looking forward to.
TdA: What kind of bike did you bring?
Pascal: I brought a cyclo-cross bike, a Specialized Crux. It's aluminum with a carbon fork, and I bought it specifically for the trip because I wanted the compromise between a bike that would be quick and robust as well. It's probably a little more on the light side than robust side but I'm hoping with the right tires it will be good for the trip. That, and because it looks good. I like to keep it clean. When we end in Istanbul I hope that it still looks good – almost as good as when we started.
TdA: How have you been training? Do you feel prepared?
Pascal: I didn't do the things that were too specific for this tour, but I ride my bike all the time anyway, so I kept doing what I typically do. I kept riding – for the past 12 months I rode almost every day. I get up and ride before work and I do longer rides on the weekend. I guess I rode between 400 and 600 km in a week, but that wasn't necessarily for the trip, it was just what I usually do.
TdA: If you could give one piece of advice to someone going on their first tour with us what would it be?
Pascal: Keep your bike clean, because you never know when you need to look good on the road.
— Nate Cavalieri