Blog
REGISTER NOW
LOGIN
SIGN UP FOR OUR NEWSLETTER
Off they go…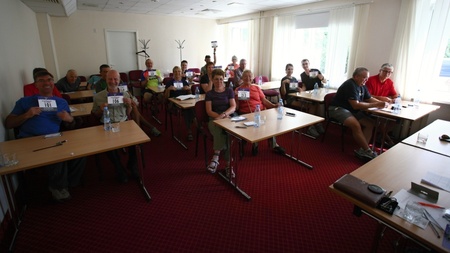 This is the second time we have run the Amber Route portion of what is now our Trans-Europa tour, and as you can never stand in the same river twice; one knows after our first day of riding out of St. Petersburg, that the stories and shared experiences of our participants will create a whole new Tour unique onto itself. Let the fun begin.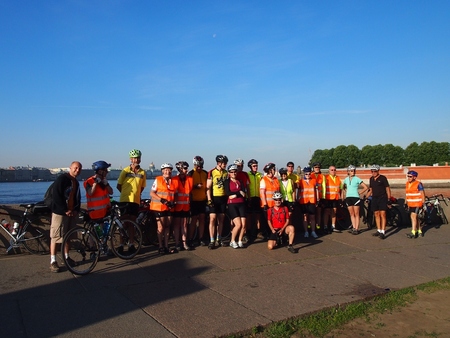 Our first day started with an early morning wake-up. The breakfast at our hotel was a little later than we'd expected so everyone had lots of time to mingle around the lobby. Interestingly it seems that Russians like to drink through the night as late night revelers started arriving to our hotel at around 6:00am where they sat at the bar to order more drinks. It was a little surreal as we waited in our spandex for the breakfast buffet to open.
We partnered up with a local bicycle guide in St. Petersburg to take us through the city and point out some of the highlights along the way, especially the Winter Palace. Avoiding the worst of the traffic we managed to make it to our first nights hotel in Peterhof in a very short first day distance of 37km. The convoy was one of the most relaxed I've seen with most of the riders chatting to each other, getting to know where everyone is from, what enticed them to join us etc…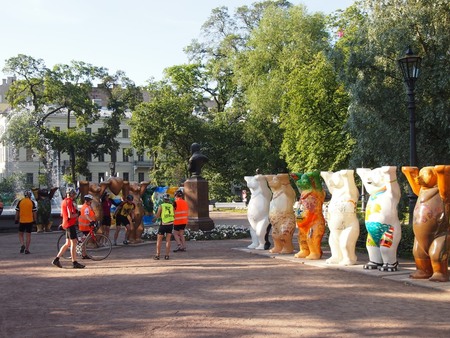 There are a lot of TDA alumni on the trip so for some our day to day routine feels like old hat; for those new to our team there will be the usual adjustments the first week or so as the kinks work their way out of the system.
The weather has been wonderful, with hot days and no rain as of yet, but the weather application on my phone keeps showing thunderstorms ahead so let's see. It's evening now, everyone's had dinner and are probably thinking about heading to bed at some point, but with the sun still high in the sky it almost feels like we could start the next days ride… but maybe we'll get an ice cream instead.