Blog
REGISTER NOW
LOGIN
SIGN UP FOR OUR NEWSLETTER
Rider Profile: Jane Lodge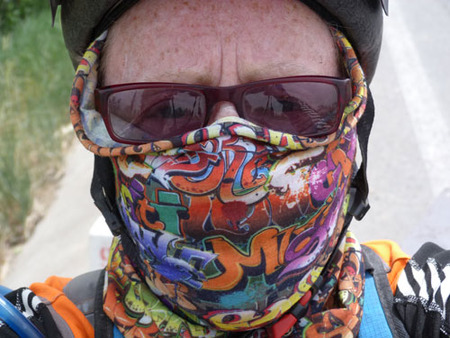 Introducing Jane Lodge, a first-time TdA rider who is making the entire trip across the Silk Route from Shanghai to Istanbul. Once, after a particularly grueling morning of coal smoke, construction vehicles and bone-jarring road, Jane announced that she had just ridden through hell, but over the course of the following weeks she's sunk into the rhythm of the tour with the perfect balance of personal strength, wry humor and open-mindedness.

TdA: For posterity, tell us your full name, age, occupation and anything you'd like to tell us about yourself.
Jane: I'm from Broome, Western Australian, a remote area in northern Australia. I work with indigenous people in community development.
TdA: Do you have any favorite ride there?
Jane: My favorite ride is around the river in Perth – there are loads of bike tracks and it's flat and you can do 120 kilometers there in a morning really easily. Also, I don't often fall off. I am in Perth quite a bit for work and keep three bicycles there. But probably New Zealand is my favorite spot for riding in the world – it's fantastic.
TdA: Why did you choose the Silk Route bike tour for your next adventure?
Jane: I don't know, I think I might have to get my head examined. No, actually it is the 'Stans. I always wanted to visit the 'Stans and I thought bicycle would be a really good way to see them.
TdA: What makes you a little nervous about this trip?
Jane: Everything. First is the climbing – because where I live is completely flat. There's one hill that goes up to the golf club house. It's on the top of a sand dune and there is a cue to ride up it in the morning. There are three cycling groups in Broome and they cue up to cycle on the hill. Climbing makes me nervous.
TdA: What do you look forward to the most?
Jane: All of the 'Stans. Just having a look.
TdA: What kind of bike are you bringing?
Jane: I brought a Cube mountain bike. It's German, made in China – back for a holiday, to visit the parents I guess. Given the opportunity I would have put different gearing on it – but I put together too late for the trip. I would have put on a bigger gear for the highway; its gears are too small.
TdA: How have you been training? Do you feel prepared?
Jane: No, not at all. In Broome there's like three roads and used to do a loop that was exactly 104 kilometers. It was very hot and humid there, so motivation was an issue. I had to get up at four in the morning to ride when it was the wet season and 38 degrees with 90 percent humidity. The motivation was a bit… lacking.
TdA: If you could give one piece of advice to someone going on their first tour with us what would it be?
Jane: Get a Surly Long Haul Trucker with thick tires and train like crazy. But aside from that, just come. It's good. It's taken me a little while to get here, but it's good.