Blog
REGISTER NOW
LOGIN
SIGN UP FOR OUR NEWSLETTER
Halfway across Iran
Our Silk Route Tour arrived in Tehran today, busing into this megacity of 16 million from beyond the outer suburbs. This marked the end of our first 8 days of cycling in Persia, during which we covered more than 900 km on our bikes including 8200 meters of climbing, while reveling at the amazing differences to be discovered between the day to day reality of life in Iran and the propaganda the US led western media would have us believe.
En route we've feasted on kebabs and rice, olives in pomegranate tapenade, refreshing fruit flavored near beers, watermelons, pistachio nuts, and a timeless dish called "dizzi." We've spun our trustworthy 2 wheeled steeds on big highways and secondary roads, past ruins of citadels and caravanserais, and through tunnels, villages and towns. Everywhere we've been welcomed by locals keen to know where we're from and what we're doing. We've also been invited inside a beautiful village mosque in whose tiled compound we camped, and shared an orange flavored shisha amongst the group after a hard day's pedal.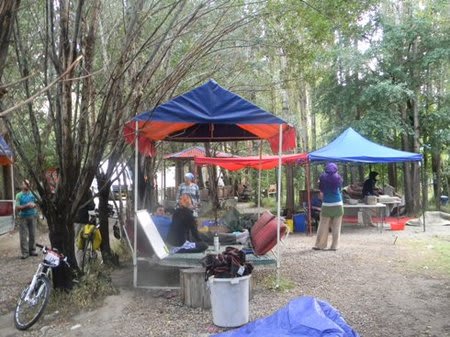 The first days were also the end of Ramadan and the holidays that celebrate its end. Consequently the larger roads were full of Persian families driving their locally made Kia Saipas and Peugeot Pars home from camping excursions or sojourns to the Islamic holy city of Mashhad. In fact Iranians are fanatical about camping, and in the towns revered parks as well as along the highways you'll find them picnicking, and pitching their pop up tents. Moreover, like their North American counterparts, and this will surely come as a surprise to some, they love to munch on potato chips and chee-tos in the car. Iranians are also as addicted to cell phones as any people on earth, and manufacture their own smart phones.
Here in Tehran our local support partners from Pasargad Tours, have overcome the official hurdles presented by the Heads of the Non-Aligned States conference which has shut down the downtown and meant that all tourists have had to vacate their hotels due to the several thousand visiting delegates. Not only have they managed to secure us a beautiful hotel overlooking the city but tomorrow we will be the only ferangis ("foreign devils") allowed to visit 2 of the palaces in the downtown area.
This will surely prove to be the latest of our surprising and sensational experiences in this mystical and oft misunderstood land of ancient cultures and modern achievements.