Blog
REGISTER NOW
LOGIN
SIGN UP FOR OUR NEWSLETTER
To Venice, by boat of course!
The last 3 days of the Amber Route section from Ljubljana to Venice were a story in contrasts.  After riding almost entirely in Slavic countries since St. Petersburg, it was time to cross into the Latin-speaking world in Italy.  Before that though there was our last camp in Slovenia.  This was at the base of a high escarpment that is very popular with paragliders, many of the other campers were there for just that and we could see them flying overhead on the winds whim.  One of our cyclists, Walli, decided there is no time like the present and went on a tandem flight with a local paragliding guide. From a mile high we could all see her smile.
After that it was our first day in Italy.  Unlike much of the route where there are long stretches between villages or towns, as soon as we crossed the border it appeared to be one non-stop village with many, many turns.  Navigationally one of the most challenging days we've had, a few cyclists got off track, but when there are as many roads as in Italy they eventually found there way to camp and had stories to tell from their quite different routes.  Our last camping night with the Amber Route riders was spent in a "Agriturismo" which is a small family run pension, which in this case allowed camping as well on their property.  It was a relaxing evening siting in the shade with wine to be drank, the heat of the day finally subsiding.
Our road to Venice was a smooth and short one, with everyone meeting in Punta Sabbioni where we would wait for the boat ride to Lido, a small island just to the south of Venice.  Once everyone arrived and our boats appeared people boarded for what was a 1-hour tour of the Venetian lagoons and the Grand Canal.  The boat went through Le Vignole, Murano, San Michele, Rio de Noale, the Grand Canal and finally Lido.  I think this boat ride truly gave people an impression of how grand Venice is, and just how unique.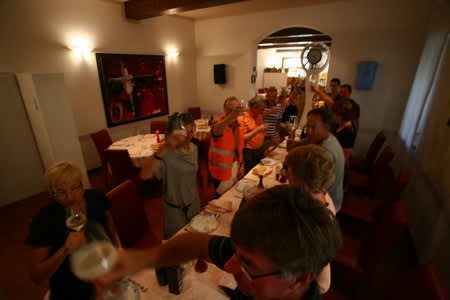 Our evening in Lido was spent dining at a fantastic restaurant where we indulged in risotto, pasta, fresh fish, rocket greens, and for desert, a new favorite, Sgroppino al Limon, which is Lemon Sorbet and Prosecco whisked together, divine.
Our first rest day had us saying goodbye to the Amber Route sectional riders; we packed up all our gear and moved to our Villa in Mira, just to the west of Venice.  From here we'll enjoy a couple of very relaxing days before our journey continues towards Genoa and of course Lisbon!