Blog
REGISTER NOW
LOGIN
SIGN UP FOR OUR NEWSLETTER
A Fork in the Road
I too have made it to Madrid, but not on a bike!
It has been a while since I have been able to join one of Tour d'Afrique tours and ride. And after the second surgery on my arm in February, I was hoping to be back on the saddle and cycle with the group on the inaugural Tour d'Afrique Amber Route Plus. It is the Plus that is inaugural in 2012. The Plus stands for Venice to Lisbon. The Amber Route of course is St. Petersburg to Venice which we first did in 2010 (not to be confused with our Orient Express tour that we will be doing for the 7th time next summer.
So I made my plans, but about two weeks before I was to join, I accepted that the body is not ready. Anyone that has joined our tours realizes that life is full of adjustment and as we are talking about Venice the thought "carpe diem quam minimum credula postero" – (capture the day put minimum trust on tomorrow) took over. And as I have an 87 year old mom who still loves to travel, I said to her "pack your bags, we are going to Barcelona". And so few days ago we met the cyclists in Barcelona.
There are a few ways to get from Barcelona to Madrid. The cyclists took the "off the beaten track", and us (Ruth, my mom and I) in a rented car chose Lonely Planet Grand Tour with a little Plus – what can you do, it's in the blood.
So what do you see when you take the Grand Tour Plus? Well you start with Tarragona (where we last saw our cyclists) described by LP as a fascinating mix of Mediterranean beach life, Roman history and medieval alleyways. The highlight though without any doubt is the seaside facing Roman amphitheatre. From there we headed to Valencia still on the Mediterranean and Spain's 3rd largest city. What does one say about the "modern space age splendor" (according to LP again) architecture. Well I quote my mother, "I have seen a lot in my life, but this, this is interesting" – or maybe just striking.
Next was Teruel described by LP as one of Spain most attractive cities – an open air museum of ornate Mudejar  monuments with a wonderful tragic story of two lovers in 13tn century thrown in for aspiring filmmakers. After Teruel came the Castilla-La Mancha province which some of you may recognize as the stomping grounds of Spain's primary contributions to modern literature, the unmatchable Don Quixote. We stopped in Cuenca a Unesco heritage site to see the hanging houses among other marvelous attractions.
From there it was to the historic city of Toledo where for a thousand years the highs and lows of Islam, Christianity and Judaism where people lived and killed, built and destroyed, celebrated and tortured, in short – if the buildings could only talk. Who knows soon there may be a new 'app' that when you attach your latest smart phone to a stone it will tell you its story.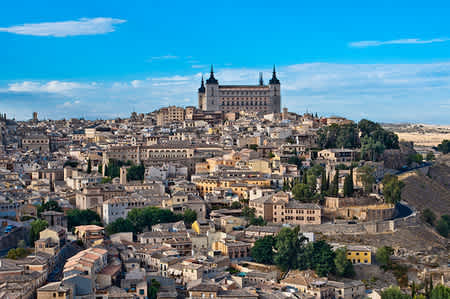 So what is the point of all this? To quote a favored philosopher of mine Yogi Bera, "when you come to a fork – take it". Whichever way you go, you will likely have wonderful experiences, trials and tribulations, neighbors that come to their room at 3 AM singing and dancing and wondering why you are not celebrating and instead you are asking them to shut up. Oh one last thing; dinners in restaurants do not start until 9PM. Well, we found one that did open at 8.30PM.
— Henry Gold