Blog
REGISTER NOW
LOGIN
SIGN UP FOR OUR NEWSLETTER
Scouting China
Nhihao
Welcome to China.
I arrived in Shanghai after weeks of planning and research and I am now on a mission to scout and see what the road looks like from Shanghai to Singapore over the next 6 weeks.
I was kind of lost for the first couple of days because I do not "speaka die language" and trust me the Chinese laugh at you when you try Afrikaans or even English but thanks to Jimmy King life in China is so much easier.  Jimmy is my driver and translator. He is from Shanghai and he is driving me all the way to the Vietnam border.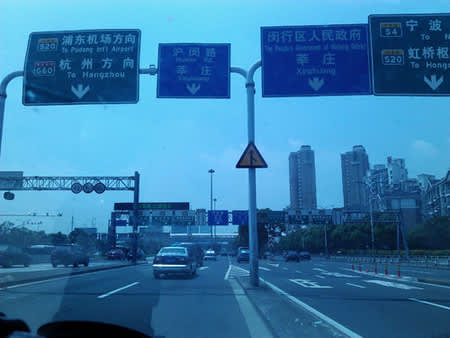 The two of us make a very good team….he speaks Chinese and drives through the madness and I'm the navigator. I have a GPS and that's how we find our way around China.  When things go a little crazy around us, and trust me driving in China with all the suicidal scooters, highways, and elevated roads  is complete madness if you don't know where you going, then Jimmy likes to turn on Mongolian Heavy Metal! I didn't even know that the Mongolians knew about Heavy Metal music so I have listened to everything from Heavy Metal to Chinese Rock and Roll  while scooters fly by and cars honk at anything that moves. In addition we have our GPS chatting to us in Chinese so there is a lot of "Xie Hee Jia hoo haa toot toot" going on inside the car while I take note of the directions.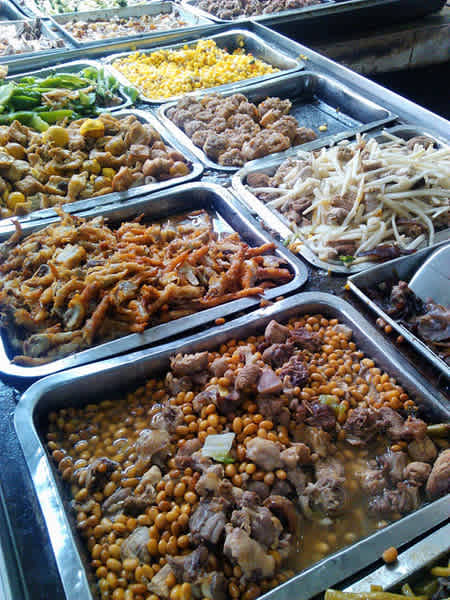 According to Jimmy the Chinese have a saying "We eat anything that runs on the road except the cars and scooters and we eat anything that flies in the sky except the airplanes! Well, I have seen some weird and wonderful dishes in China.  Every afternoon around lunch time we would look for a street café to grab a quick meal in some of the towns along the coast.  Jimmy would say NO, we can't stop here they only have dog restaurants so we would just pass through to the next town and there would be another surprise. I am not sure if that was true or not or if he just didn't like the towns….? The Chinese have definitely a wonderful selection of food to pick from. I ate some things that I never heard of and sometimes I didn't even know what I was putting in my mouth and where it was coming from.  Some of it was very delicious and some of it was just not for me.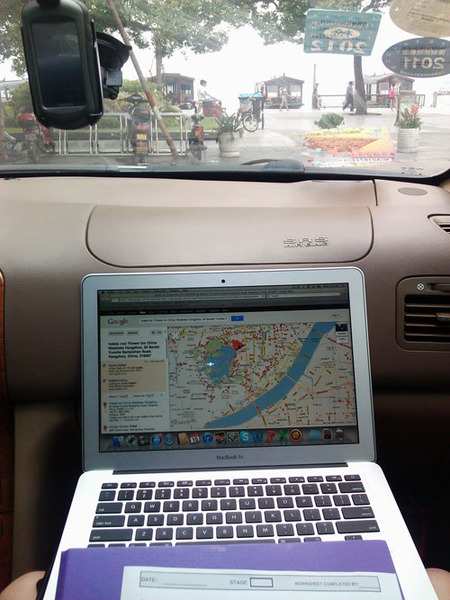 Here is a picture of my office. This is where I spend most of my time these days. It looks like a cockpit and it comes with a SRS airbag. I'm happy to have a mobile office. The scenery changes all the time from modern cities to ancient villages and the greenest landscapes and tea plantations you can imagine.  And there is always something to laugh at. The locals fascinate me with all the different modes of transport they use and especially how they transport their animals.  We had to stop one day on a very bad road that was under construction and take pictures of a guy dragging his 2 ducks  behind his scooter through the dust.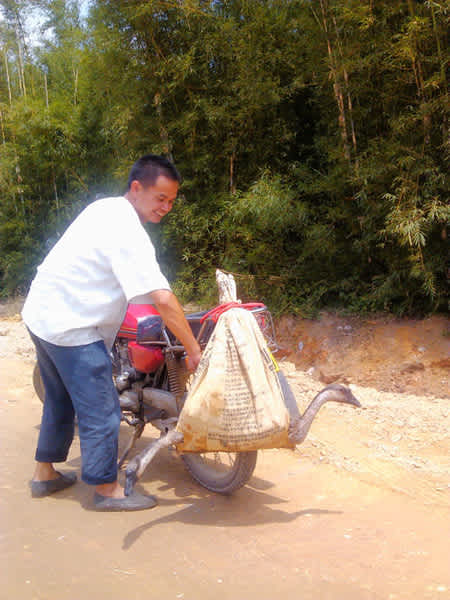 When I'm not in my mobile office taking notes I'm on my bike. I went to a bike shop in Shanghai and bought myself a cheap and cheerful Chinese fold up bike  called the Battle.  In the evenings when we get to a town I get on my little bike and explore the town and then the next day I just chuck it in the back of the car and we continue with our drive. It is really a fun way to explore the towns.  China is full of bicycles and bike lanes and that is how a big chunk of the 1.3 billion people get around everyday.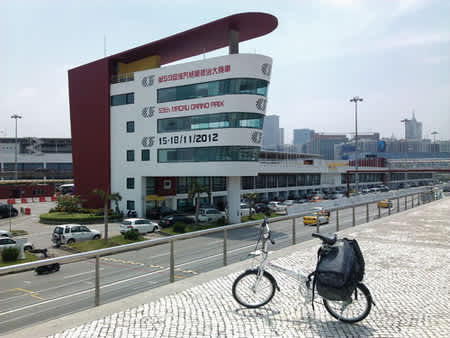 We have covered roughly 3500km in China including Hong Kong and Macau and I'm moving on to Vietnam now.
More news from the other side of the Chinese border