New Website – Having Trouble Finding Things?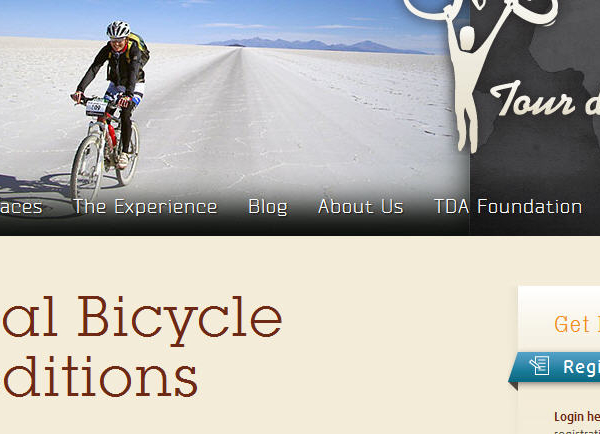 You may have noticed we look a little different today. We have launched a brand new website to showcase all our epic tours around the world. Whether you are hoping to join us for 2 weeks somewhere in the world, or you are planning to cross a continent with us in the near future, this new website will help you get there.
Thanks to the help of our friends down the street at Catalyst Workshop for designing and building our fantastic new site. We are very excited to share with all of you.
Having troubles finding what your looking for?
Tours and Sections of Tours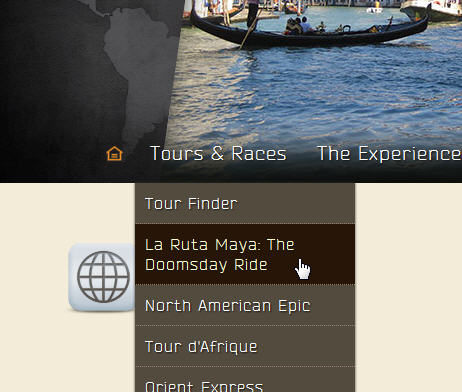 All the important and interesting details of each tour are found under 'Tours & Races.' Once you click on a particular tour from the list, you are taken to that tour's landing page where you'll find all sorts of information on that tour.
Example – //tdaglobalcycling.com/tour-overview/?t=ruta-maya
Tour Prices and Dates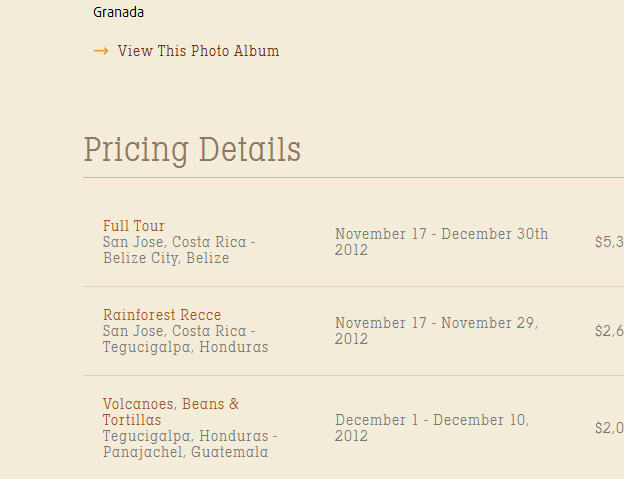 Inevitably if you are interested in a tour you need to know when it is and how much it'll set you back. On the testing, some people noted that it was a little hard to find this info. On each tour page, under the tabs called 'Overview' and 'Route' if you scroll to the bottom you will see a table that lists the current or upcoming year's prices and dates for each section and the full tour. You will also see here the difficulty, exotic factor, and comfort ratings.
Example – //tdaglobalcycling.com/tour-overview/?t=ruta-maya
Rider Profiles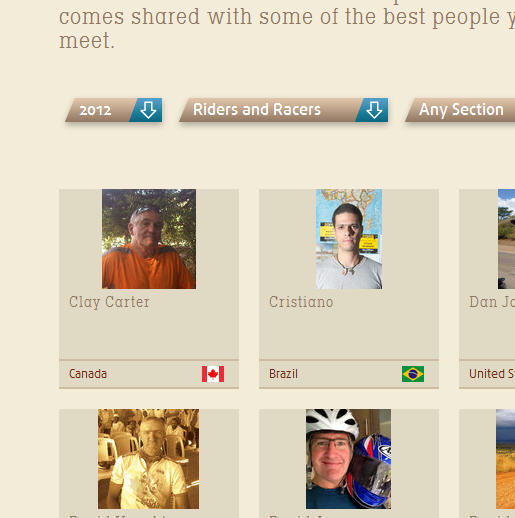 Under 'Tours & Races' choose a tour, and then click on the tab called 'People.' This will show a listing of all the riders for that particular tour. Please note that if you don't see any rider profiles here, it might be because its too early. Registered riders will now be able to post their own photos and profiles thru MyTours – our online registration portal.
Example of the People page – //tdaglobalcycling.com/profiles/la-ruta-maya-doomsday-ride/2012
Blog and updates from the road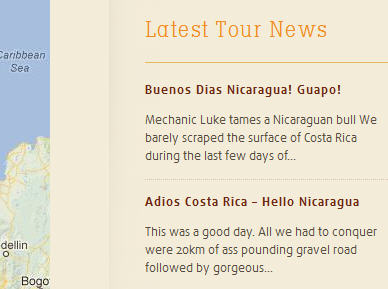 You can now see a list of the most recent blog posts for specific tours right from the tour pages themselves. Take a look on the right hand column on any of the tour pages and you will see links to the most recent blog posts under the headline 'Latest Tour News'. You can also access all the blog posts from the 'Blog' link in the main navigation from any page. Once you are on the blog pages, you can choose to read about specific tours by hovering the cursor over the 'Updates from the Road' tab.
Example – //tdaglobalcycling.com/tour-overview/?t=ruta-maya
Example – //tdaglobalcycling.com/category/all/
Meet the Staff
Ever wondered what the TDA staff look like? Check us out! And read on about the company, our partners, and our history in the 'About' section.
Example – //tdaglobalcycling.com/meet-the-staff/
Signing up for the newsletter
You can sign up from the newsletter from any page by clicking the link under our Facebook and twitter icons in the 'Connect With Us' area.
Example – //tdaglobalcycling.com/newsletter/
Registering for a tour
You can register for a tour from any page by clicking the link under the 'Get Involved' area in the right hand column.
Example – //tdaglobalcycling.com/registrations/new
We want your help and expertise
Do you see a mistake? Is there a broken link? Something confusing you? Please let us know. The website is a never ending project that will continue to go through upgrades in the coming months. Your feedback and input will help it become even better. Send us an email and tell us what you found.
Thanks and enjoy!
---