Blog
REGISTER NOW
LOGIN
SIGN UP FOR OUR NEWSLETTER
Rider Profile – Bill Talbot
Bill always has a big smile on his face and I have yet to hear him complain. He started the first few days of the Doomsday Ride going really slow and then…zing!… by day 4 or 5 he connected with the front pack and he is now one of our strongest riders.
When you are not cycling you are…
A theatre electrician for the Shaw Festival in Canada.
Why Central America by bike?
For me it is the only way to travel in a group. Cycling allows you to be closer to your environment and really experience your surroundings.  I enjoy the dynamics of this group of riders. Most people are helping each other overcome their weaknesses in order to move the group forward.
About your bike.
It's a Cross Bike Trek, Gary Fisher. SRAM Groupo. Tyres: Skinny continental touring plus. It is a bit of a crazy choice of bike as it is great on the pavement but I really suffer on the off-roads. The idea for me was to challenge myself. My recommendation to anybody who wants to do this tour is that they should buy the best bike they can afford.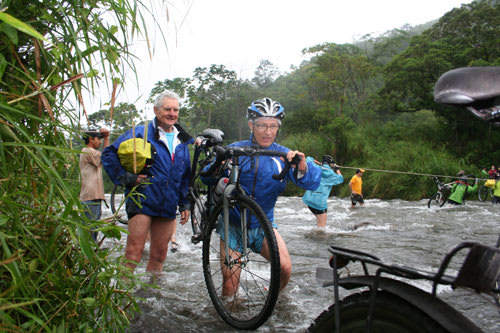 How much training did you do for the Doomsday Ride?
I commute to and from work every day. And I cycled 100km twice a week but it was clearly not enough.  I have managed to lose about 4 pounds so far.
What do you miss most about home?
Hot showers.
And, being able to stay up a little later. (We go to bed around 9pm on most nights)
Three things you could not do without on the tour?
iPhone
Shammy cream.
Warm sweater.
What you should have left behind.
An extra pair of cycling shoes.
A lot of everyday clothes.
Some of your finest experiences so far.
Copan Ruinas.
The many Latin American markets.
What has been the biggest trial of the tour thus far?
The way I challenge myself psychologically and physically. My goal for every day is just to arrive. A tour of this scale refreshes you on many levels.  It forces you to look at life with a new perspective. At the end you return home with stronger coping skills and a broader outlook on life.
What will you miss most about the Doomsday Tour?
The killer hills.