Blog
REGISTER NOW
LOGIN
SIGN UP FOR OUR NEWSLETTER
A New Pope, A New Approach?
"I felt once more how simple and frugal a thing is happiness: a glass of wine, a roast chestnut, a wretched little brazier, the sound of the sea. Nothing else."
"God changes his appearance every second. Blessed is the man who can recognize him in all his disguises."
–          Nikos Kazantzakis, Zorba the Greek
Not being a Catholic and not knowing anything about any of the Papal candidates, I did not pay much attention to the media circus surrounding the selection process for the next spiritual leader of 1.2 billion people on earth. But when I heard a CBC report that the new Pope is a cyclist, I thought, this is interesting. Why would a major news agency mention in one its first reports on the new Pope that he is a cyclist. A second point of interest was aroused when I heard that he took the name Francis, after St. Francis of Assisi, a name never before chosen in the church's long line of Popes.
I heard a CBC report that the new Pope is a cyclist
The author of one my favourite books, Zorba the Greek, Nicos Kazantzakis also wrote the book, God's Pauper: Saint Francis of Assisi, which I had the pleasure of reading many years ago. Compared to Zorba the Greek, which was made into a very successful play and movie, St. Francis of Assisi was hard reading. Still it was worth it.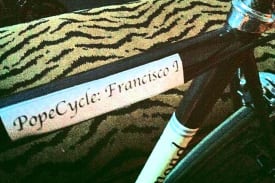 St Francis of Assisi, for those of you who are not up to date on Catholic theology, is known as the Patron Saint of animals and the environment. If you are not a climate change denier or perhaps even if you are, I think there is little doubt that our environment is in trouble. Not a day goes by without a report of some kind: problems in the oceans, another species on the brink of extinction, a massacre of elephants, disputes over water rights and on and on. The hottest topic in China, and one that yet may actually herald the downfall of the communist party of China, is environmental pollution.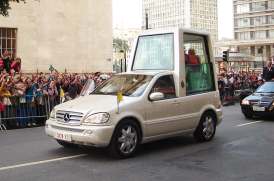 Pope Francis now leads 1.2 billion people and thus can have a great influence on their behavior. He could also have a great effect on many others who are not Catholics as long as he pays attention to the same issues that St. Francis of Assisi did – the environment, animals and the poor. Personally I think it would make a great statement if, instead of using the Popemobile for his public appearances as His Holiness, The Pope, Bishop Of Rome & Vicar of Jesus Christ, he arrives on a simple, inexpensive, human-powered machine, something Saint Francis himself would have approved of – in a pedal-powered Popemobile.
I will leave you with another quote from Zorba that should not be forgotten:
"For I realize today, that it is a mortal sin to violate the great laws of nature. We should not hurry, we should not be impatient, but we should confidently obey the eternal rhythm."