Blog
REGISTER NOW
LOGIN
SIGN UP FOR OUR NEWSLETTER
Earth Hour Should Incorporate Human Powered Devices
On March 31st, 2007 an event called Earth Hour was held in Sydney Australia with 2.2 million citizens of the city and 2,100 businesses participating.
Organized by World Wildlife Federation (WWF) and now held towards the end of March each year, (8:30pm to 9:30pm today), with the idea to encourage households and businesses to turn off their non-essential lights for an hour and raise awareness about the need to take action on climate change.
I am of course talking about creation and use of elegant human powered solutions
The idea captivated imaginations and spread. Millions of people now turn their lights out for one hour and I am sure that Mother Earth is thankful even for one measly hour of reduction of energy use.
The campaign has expanded and groups of people are initiating a variety of projects all over the world. http://www.earthhour.org/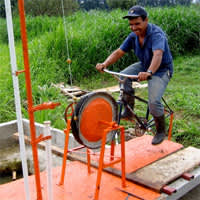 Yet the main concept of saving energy when it comes to long lasting results is not happening. This is too bad because I believe that with some minimal research and much encouragement, solutions that would reduce our use of energy exists and they do not require major breakthrough in technology.
I am of course talking about creation and use of elegant human powered solutions that can reduce the use of electricity and oil not only for an hour per year but for an hour or more each day. Worldwide there now exists the ability to create just about any human powered tools for use by individuals whether for transportation or for everyday use that, if spread, could produce a significant reduction in energy consumption and in the process create less pollution, healthier environment, and healthier population. In order for this to happen, these tools need to be mass produced, be relatively inexpensive and aesthetically pleasing. They also need some creative marketing.
Countries all over the planet are experiencing an increase in obesity and diseases related to lack of movement. Many of us spend hours working out in gyms using machines that consume more energy. Frankly if aliens would kidnap me and asked me to explain earthlings' behavior, I would be at a loss for words. But then of course I would have one hell of a story to tell.
photo credits: bike powered machine via Maya Pedal and bike lane via SF Streetsblog