Blog
REGISTER NOW
LOGIN
SIGN UP FOR OUR NEWSLETTER
Oh the Rain
After many wet days, and bad internet connections, here is a belated Mud Report from late last week by Communications Officer Adele…
Every year the TDA heads for the garden-path through Tanzania, and every year the rainy season starts like clockwork, awaiting our arrival to the day.  Dark clouds loom over head, as the riders and crew await the inevitable.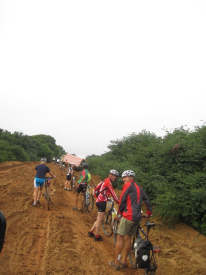 The eight days between Arush and Mbeya, are a test to even the racers amongst us, but the greater challenge this week comes more so off the bike than on; aka how to live in a flooded landscape.  An afternoon of sunshine here, a morning of sun there, get out the tarps, the bikes shoes, the cycling kit, the socks, the packs, sleeping bags, t shirts, jackets and anything else taken down by the monsoon.  It's one thing to bike in the rain all day, but it is certainly quite another to be faced with an entirely flooded camp to make you feel right at home. A few tents flooded in the after dinner rains, a time when one can only hope for at least a decently thick thermarest, or at least that your sleeping bag had dried out from the flooded night before.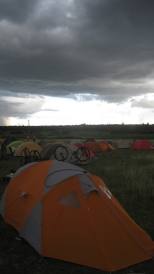 Days of rain, mountains of dirt, and even some road construction thrown in meant a hard go for any drive train, not to mention the dozen or so snapped derailleurs throughout the week. With the whole tour working together lending a bike here, a pair of cycling shoes there, or a spare part at the end of the day, the race went on, and EFIs were kept, and somehow we all made it through.  Bike shop has been running double time well past sunset, and the medics have had their fill with all sorts of off-road mis-adventures.
The pavement begins again soon bringing a relief to the long days of riding, however one look at this dense tropical landscape, and we can be sure that it's not all sunshine from here.