Blog
REGISTER NOW
LOGIN
SIGN UP FOR OUR NEWSLETTER
TDA Foundation Bicycle Donation in Arusha, Tanzania
The Reason

Every year the riders who sign up to ride the 12,000kms from  Cairo – Cape Town register for countless numbers of reasons. If not for the personal challenge and adventure, then sometimes the simple love of a bicycle is enough to drive someone to spend 4 months of their lives intimately invested in one. Some decide to cycle the TDA having never ridden a bicycle before, not entirely sure if they will in fact love it. Before long anyone spending a large amount of time in the saddle comes to agree that the bicycle is not solely an efficient form of transportation but a personally satisfying one as well.
The TDA Foundation continues to build partnerships with 'bike-minded' organizations
The empowerment brought on by a bicycle is nothing new to the Tour d'Afrique nor any of the many riders who have completed the tour over the years. With 100% of the TDA Foundation funds raised by either tour participants or the company itself, bicycles to be donated are purchased locally. As well, all recipients of the Foundation are small-scale local charities. In this way the Foundation focuses on giving something back to the people and the communities through which the expedition passes.
In Arusha

Here in Arusha, the Tour d'Afrique Foundation partners with the Canada Africa Partnership on AIDS (CAP/AIDS). With its local partners operating in the Arusha area, CAP/AIDS has been working in Tanzania since 2004, supporting the work of local community-based organizations focused on home-based care, HIV education and awareness and the promotion of voluntary testing and counseling. Since 2010, CAP/AIDS has been supporting the improved 'capacity building' of its local partners in Tanzania. This effort focuses on delivering effective, gender-sensitive and responsive support to local communities through better governance and implementing finance/project management systems based on best practices.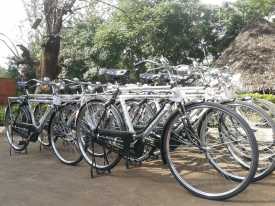 Women in Action (WIA) is a CAP/AIDS Tanzania-based charity operating in the area, with whom the Foundation has partnered for a number of years – donating dozens of bicycles to their programme. With this help from the Foundation, WIA is able to serve home-based clients more easily as well as increase their outreach to a larger client base in the Arusha area. The donated bicycles are continuously being modified with the aim of achieving a reinforced design suitable to the local conditions. This, despite a higher initial cost, would enable WIA's bikes to carry larger loads, a more practical and longer lasting option.
Starting in Nairobi* and continuing south to Cape Town, the TDA Foundation continues to build partnerships with 'bike-minded' organizations that will last for many years to come.
*Due to potential political issues during the recent election in Kenya, the TDA Foundation donation ceremony scheduled for March 10th in Nairobi was postponed and will take place later this month. A report will be posted on this once details are available. Although the riders will not be there to enjoy the bicycle hand-over in person, they will be there in spirit.