Blog
REGISTER NOW
LOGIN
SIGN UP FOR OUR NEWSLETTER
Tour d'Afrique Race and EFI Update
The 2013 TdA has passed the midway point of our annual trans-African odyssey on two wheels. As the riders and racers navigate the muddy back roads of central Tanzania, it's time to recognize some of their accomplishments so far.
After 52 of 94 stages the tour has covered 5934 km, cycling 5310 km and busing 624 km in Kenya due to the uncertainty and possible insecurity surrounding the recent national election. All told 4421 km have been officially raced, including the smooth pavements of Egypt and northern Sudan, the remote off roads between Sennar and the Ethiopian frontier, the big climbs and descents along the Ethiopian plateau, a shortened distance in Kenya, and now the rainy and verdant Tanzanian highlands.
Among the ladies South Africa's Bridget O'Meara, affectionately known as "BOM," has also led from the start
Averaging 29.4 km/h Quebecer Pascal Duquette, including lunch and coke stops, has been the man to beat from the get-go. Having "tuned up" by riding EFI on the 2012 Silk Route, this friendly but intensely competitive semi-pro caliber cyclist now has a lead of slightly more than 10 hours. Ireland's Philip Howard, who won the Meltdown Madness section from Addis Ababa to Nairobi, is now in second place, with 56 year old New Zealander John Faulkner 1 ¾ hours behind him in 3rd. They are well clear of another Kiwi, Vince Langford, and it will take remarkable effort or unforeseen circumstances for any of the other men to knock the top 3 off the podium before Cape Town.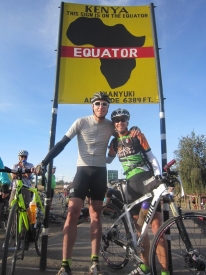 Among the ladies South Africa's Bridget O'Meara, affectionately known as "BOM," has also led from the start. At an average speed of 22.1 km/h, her advantage has now stretched beyond 11 hours over England's Lizzie Brown, with Australian Rosi Winn another 5 hours back in 3rd.
All told 36 of the 50 full tour-ists are still classified as racers and being timed. You can always find the latest stage results and overall standings at https://tdaglobalcycling.com/results/tour-dafrique/2013.
The EFI Club: 20 intrepid riders remain
Meanwhile, 20 intrepid souls, including all of the aforementioned leading racers, remain in the 2013 EFI Club which is the designation we dedicate to those riders hardy and fortunate enough to manage to cycle every fucking inch we throw at them.  Here are the 16 men and 4 women who have rolled into camp every day so far, determined to join this exclusive club*:
Lizzie Brown
James Campbell
Freek de Haas
Pascal Duquette
John Faulkner
Phil Howard
Alan Knight
Vince Langford
Mike Lantz
Jared Lester
Alex Morier
Ali Costa Nascimento
Bridget O'Meara
Darragh O'Riordan
Claire Oziem
Marco Panebianco
Kurt Schwietzke
Jan Thygesen
Stig Ulvang
Rosi Winn
With 5700 km to go we wish all the riders happy cycling and good luck as their goal of reaching Cape Town draws a little closer every day.
*please note EFI list error was corrected March 25, 2013