Blog
REGISTER NOW
LOGIN
SIGN UP FOR OUR NEWSLETTER
TDA 2013 Finish line, arrival ceremony and final dinner details
It is less than two weeks to go before 2013's brave group of Tour d'Afrique cyclists will cross the finish line at the end of their epic journey across Africa. As always we look forward to giving our riders a hearty Cape Town welcome. This year the finish line will be at the world famous V&A Waterfront. The riders will receive a Champagne welcome and be greeted by friends and family. The celebration will continue with short speeches, a medal ceremony and a bicycle donation.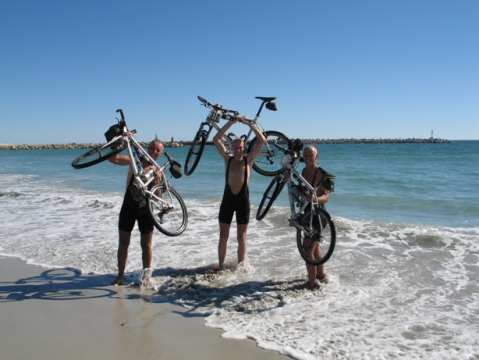 The riders will then retire to their hotel to clean up and relax before departing to Hamilton Club for a celebratory dinner and a slideshow depicting their great adventure. Friends and family are welcome to join the dinner at the Club but please be advised that there are limited spaces available. We will offer seats on a first-come-first-served basis.
TIME SCHEDULE – (PLEASE NOTE THAT TIMES ARE APPROXIMATE AS TRAFFIC CONGESTION AND INCLEMENT WEATHER MAY CAUSE DELAYS)
10:30 – Tour d'Afrique riders arrive in Kreeft Bay. Ideal setting for group photographs with Table Mountain as backdrop.
12:00 – Traffic police escort convoy from Kreeft Bay to V&A Waterfront.
12:00 to 14:00 – The Professors (band) entertain crowd at V&A Waterfront amphitheatre
14:00 –  Estimated TDA 2013 cyclists' arrival time at the V&A Waterfront amphitheatre.
14:00 – 14:30 – Meet and greet with family and friends and a Champagne welcome on the amphitheatre stage.
14:30 – 15:00 – Short speeches.
15:00 – 16:30 – Medal award ceremony.
16:30 – 16:45 – Bicycle donation.
16:45 – Riders depart for their hotel, Breakwater Lodge.
18:30 – 19:00 – Riders and company arrive at dinner venue
More about the dinner:
A buffet, catering for carnivores and vegetarians will be available at the club. Riders eat for free. Friends and family pay R150 per person at the door.  A full  cash bar will be available. Dinner reservations for friends and family must be made with Astrid Stark at +27 84 400 42 11 or astrid@tourdafrique.com. She is also available for further queries on the finish line celebrations.
More info on the dinner venue here: www.hamiltonsrfc.co.za
More information on the hotel here: Breakwater lodge, www.bwl.co.za