Blog
REGISTER NOW
LOGIN
SIGN UP FOR OUR NEWSLETTER
TDA 2013 Nairobi Bike Donation
For many years now on the Tour d'Afrique, the TDA Foundation Bike Donation ceremony in Nairobi has been a rider favourite. Beers, cold pop and snacks are available. Kenyans who have received bikes in previous years attend to tell our cyclists how a bike made such a difference in their lives. Children from Mazi Majuri, a local school, put on a traditional dance. It just all seems to come together so well.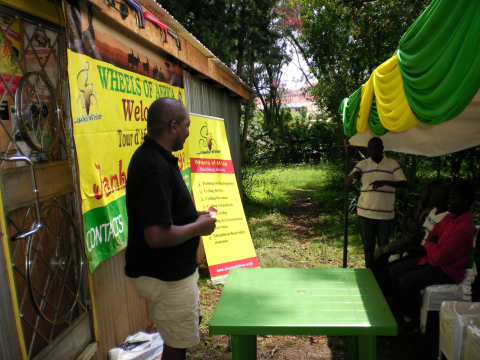 Unfortunately, the political uncertainty surrounding the Kenyan National elections in March of this year meant that the ceremony could not take place as scheduled. However, the show must go on, even without our cyclists, and on April 8th 50 bikes were donated. The ceremony was attended by Wheels of Africa (WoA) who were providing the bikes & recipients of the bikes – Arrow Web Hospital, Kijiji Cha Upendo, & Mazi Majuri. Students In Free Enterprise (SIFE) Kenya, who are working with WoA to develop Nairobi's first bike hire business, and EcoTourism Kenya, who have recently formed a partnership with Wheels of Africa were also present.
Fifty bikes were donated:
WOFAK/Kijiji – 20 bikes; Maji Mazuri 15 bikes, SIFE – 5 bikes Arrow Web Hospital – 10 bikes
The TDA Foundation looks forward to continuing this fine tradition in March 2014.