Blog
REGISTER NOW
LOGIN
SIGN UP FOR OUR NEWSLETTER
Extending the Record for the World's Longest Cycling Stage Race
Hear ye hear ye! TdA Ltd is pleased to announce the inclusion of a Stage Race component as part of our 2015 South American Epic Tour. Moreover, because the SA Epic will be the world's longest Expedition on 2 wheels, covering a colossal 13,740 km between Cartagena, Colombia and Ushuaia, Tierra del Fuego, in a little over 5 months, it will also gain the title of the World's Longest Stage Race, surpassing the 11,700 km of our very own Tour d'Afrique.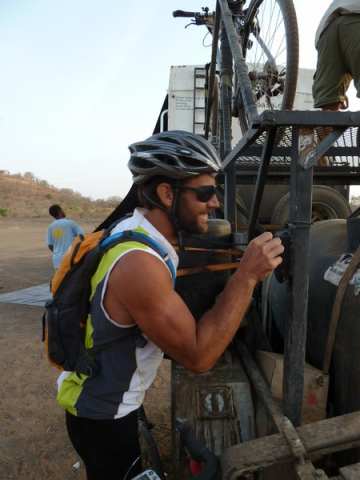 While many of the South American Epic participants will classify themselves as Expedition Riders, cycling at their own pace each day, and immersing themselves in all the vistas, food, culture, and history that the continent has to offer, we believe that the allure of contending in this unique competition will also attract a good number of semi pro and amateur cyclist-athletes.
Here's what they can expect in terms of the race:
Timing to the second using the TP Race system designed for us by TimePilot Inc.
Of the SA Epic's planned 128 stages, at least 110 will have a race component, including full stage races from camp to camp, half stage races from camp to lunch or lunch to camp, individual time trials over long steep climbs and off roads, and fun team trials.
About 15 "Mando" (mandatory) days which define the toughest stages, be it in terms of amount of ascent, high altitude, roughness of road surface, or stage length.
Each full tour racer will be allowed to deduct 5 "Grace" days from their overall time, to encourage them to slow down when the scenery is drop dead gorgeous, when they are not feeling 100%, or when the attraction of a long stop for Mate Tea, Ceviche or other local temptations proves too much. Note: "Mando" days can not be included among a racer's "Grace" days.
Recognition for stage and section wins, and unique prizes for the top overall male and female racers.
Like the other cycling expeditions that together make up TdA's 7 Epics, another personal endurance challenge for some of the SAE participants will be to achieve the elusive status of riding EFI, or "Every F*cking Inch," from the Caribbean Sea to Drake Passage. Those few who do will be true Iron-men and Iron-women.
Whether your inclination is to race, to be timed for fun, or like most of us, to simply explore the world from the best seat in the house – your bicycle, we hope that you'll seriously consider joining us on this trans South American odyssey and adventure of a lifetime.