Blog
REGISTER NOW
LOGIN
SIGN UP FOR OUR NEWSLETTER
7Epics – A work in progress
A very long time ago when I was a young engineer, I had a supervisor who took me under his wing and in a friendly way tried to teach me a few things about running new projects. Ben, my mentor, had a way of simplifying things so that, even decades later, some of his comments still echo in my mind. For example, when you begin a new project, especially one that is based on a new and unproven concept, you calculate the budget and timeline. After you have carefully done this, double it and then double it again. Perhaps then you may end up with a reliable estimate of what the project will entail in terms of time and money.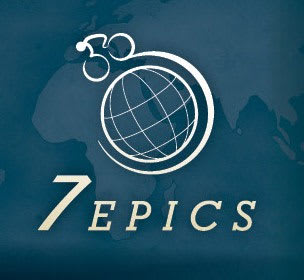 Why am I telling you this? Well, in January of this year I wrote to the 7Epics newsletter subscribers that "in the coming weeks we will be launching a new website dedicated to 7Epics". A few weeks quickly became few months. There are still features that need to be added to the 7Epics website but we feel that the site is ready for you to check out.
As with any new 'startup' the 7Epics is a work in progress. One thing we are sure of is that with this new concept we want to create the greatest cycling adventure in the world – the ultimate bucket list for cycling enthusiasts, adventurers, seekers and perhaps even the occasional individual with a mission.
We invite you to take a look and let us know what you think.
For those of you who have already signed up for the 7Epics newsletter or otherwise expressed an interest in this challenge, please be sure to complete the pre-registration form. That will give us even more information to work with and provides a greater incentive to complete this project.