Blog
REGISTER NOW
LOGIN
SIGN UP FOR OUR NEWSLETTER
Talent Night on the 2013 Orient Express
We are on a two day rest in Vienna after a hot and humid ride yesterday from Emmersdorf. It was in Emmersdorf we had our first talent night on the 2013 Orient Express. It was a chance to focus on something a little lighter and less exhausting than cycling through a summer heat wave and a chance to see what hidden talents are lurking in our group. We have several marathon runners amongst us and a rider who finished 2nd in his age category in the Cyclocross Racing World Championships. The group is full of world travellers and cycle touring professionals but the talent night was not about physical talents.  It was about artistic expression and the ability to make a fool of yourself in front of a highly receptive group.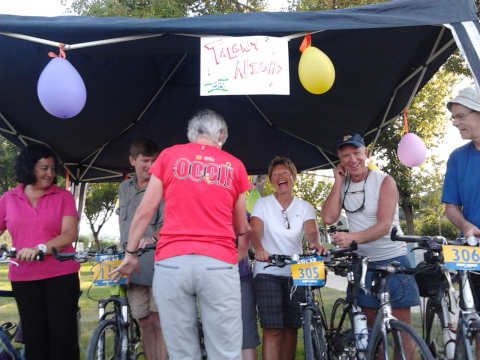 What a line up we had! There was the Bike Bell Orchestra that played us a classical tune and their version of Happy Birthday for Cat and Lil who were both celebrating their special day with us. With Louise as the conductor and the sounds of the riders' bike bells, they also played an encore performance of  "Doe a Deer" all with the varying dings and dongs of their bells.
Dan and Shirley came up with what could only be described as the tour's new theme song and, admittedly, the catchy chorus kept replaying in my head over the next 24 hours…
"Did they ever return,
NO, they never returned,
And their fate is still unlearned
They put their faith in Cat and Shanny
And the red ribbon fancy
They're the tour that never returned."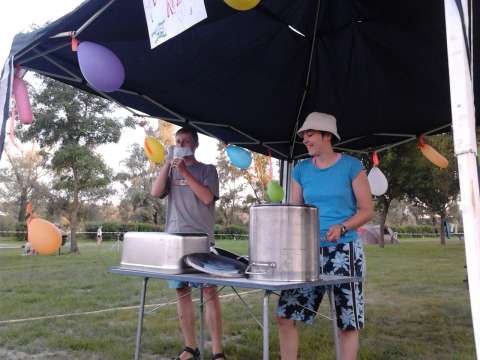 Rich regaled us with stories in his best Scottish accent. Lloyd shared his grade school poem about fleas. Jean lead us in a sing-a-long in German ("Mein Hut, der hat drei Ecken"). Bob (aka Gary Garmin) sang an ode to his Garmin device and Jim threatened to play the bagpipes while riding a unicycle. We received an Aussie education on Veggie Mite from Frosty and a beautiful rendition of "Don't Worry Be Happy" by Peter on the comb and Vilma on the pots. The staff closed the show with a song from the Sound of Music ("So long, farewell…") which also included Vilma and Peter who are still learning English.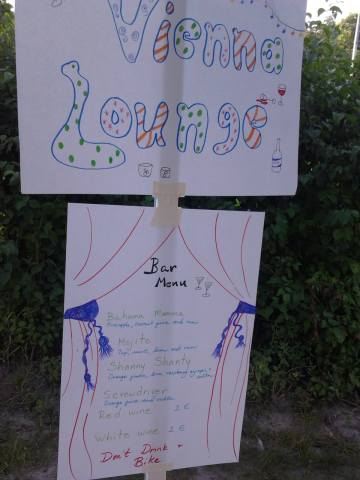 The show's MC and shammy butter queen was Liz – our most  lively and vocal cycling friend whose flare for performance on and off the bike made her the perfect choice. Chef Bonny set up "The Vienna Lounge" – our campsite cocktail bar serving strange, creative concoctions such as a 'Shanny Shanty' as well as your typical offerings of Mojitos and Bahama Mamas.
It was a great night of celebration… of three weeks of cycling, of birthdays for Catharina and Lil and for the four riders whose company we have enjoyed and who are scheduled to leave in Vienna – Helmut, Patricia, Louise, and Rich. It was great to have you with us. Their replacements in the ranks will be Anil, Brigitta and Patrick – we look forward to meeting you and finding out your hidden talents.