Blog
REGISTER NOW
LOGIN
SIGN UP FOR OUR NEWSLETTER
2014 Tour d'Afrique & Egypt
Most likely everyone planning to join us on the Tour d'Afrique in 2014 is aware of the unrest in Egypt.  Of course Egypt has not exactly been stable since January of 2011, but after the recent military coup the instability and violence is that much greater.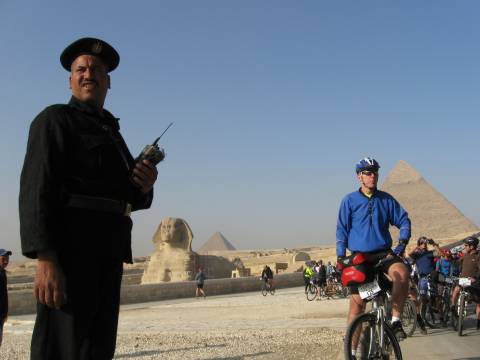 We are following events in Egypt closely, through the media and our local contacts; which include our support company in Egypt, local riders, ex-pats and government sources.  With the Tour over 5 months away it is very hard to predict what the situation will be like in January.  However we will not wait till the last minute.  We will be announcing our decision on Egypt by mid-September. For now we just hope that calm is restored in Egypt for the sake of all Egyptians.
We will continue to monitor the situation and encourage everyone interested in joining the Tour d'Afrique next year to contact us with any questions regarding security.
In the meantime we wanted to mention we have some exciting back-up plans in place if we were forced to miss Egypt due to the unrest.  If that were to be the case the Tour would begin in Sudan on January 10th (the same date as the Tour would have started in Cairo) and still finish on May 10th in Cape Town. We won't go into all the details at this moment, but the Tour would take in new roads in both Sudan and Ethiopia to make up for the lost time from not cycling Egypt… Needless to say it would be a great adventure and the chance to visit areas never before ridden on the TDA.