Blog
REGISTER NOW
LOGIN
SIGN UP FOR OUR NEWSLETTER
Reflections from the Finish Line
The staff and I had a rough start. On the morning of our first day of work leading up to the Paris departure, we walked to our support vans to find the side door wide open, and two bikes gone (and several jars of honey for some reason). The thieves hadn't bothered to close the door and the contents of our van – dry food goods, crates, bike pumps, and misc equipment – peered out at us looking neglected. Peter, our mechanic and Vilma, our photographer had just arrived the night before after driving from our home base in Slovakia. The young couple speak very little English, and already had a lot of anxiety for the trip that lay ahead. The loss of their bikes only added to their unease.
I'm also astonished at what a positive, strong, and independent group of cyclists we had.
On the final day in Paris before the big departure Catharina, Bonny, and I spent several unanticipated hours trying to finalize a new route out of Paris. Finding the way didn't come easy. After many wrong turns, and doubling back we got it figured out. After that, we frantically shopped for the first week's supply of food before racing back to the hotel 15 minutes late for our all-important first briefing with the riders. We put on a brave face while we brought our eager new riders up to speed on what they should expect in the days and weeks ahead. We wondered when we would catch up and feel ahead of the setbacks.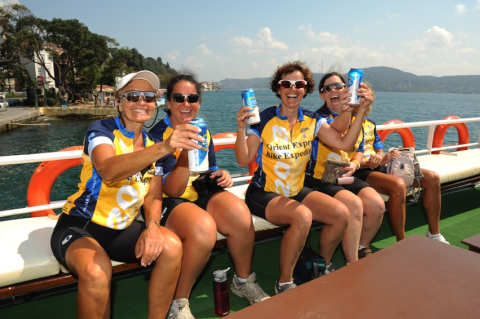 The rest of that final day was a busy haze of activities to get ourselves and the riders ready. Bikes were being assembled, final equipment purchased, routes reviewed, bills paid, and bags packed. The staff were up late, and awoke the next morning at some unknown hour well before first light. Vans were brought to the hotel, bags loaded, food loaded, and final instructions given to the group. Then, in a bicycle convoy, we took off along the network of cycling lanes and paths through relatively quiet Paris streets. In those early hours of Sunday morning there was plenty of litter from the previous night's parties that had not yet been cleared. But swerving around broken bottles and food wrappers was better than dodging traffic.
Our route took us thru the massive roundabout that surrounds Arch de Triomphe then to the Eiffel Tower for our official start line group photo. Then we set off – headed east, along the new route we had  just scouted and still felt less than confident about. It contained lots of navigation for this fresh group still fighting jetlag and first day jitters. A few kilometers from the Eiffel tower, I sent them on their own – our group ride now finished. Each rider began double checking the route notes they had copied from our whiteboard the day before. When I saw their excited faces now dispersing into smaller groups, as the city of Paris and its bicycle thieves now fading away, I made peace with the rough start and I began to feel hopeful for a good tour.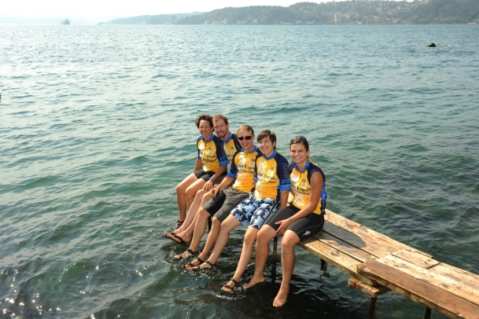 It's now seven weeks later, and I sit poolside listening to the hum of Istanbul traffic calming with the setting sun (I also hear Celine Dion coming from a nearby speaker, but I am trying to ignore it). I'm proud of how the staff performed since those first difficult days. Thank you Bonny, Catharina, Peter, and Vilma for all your hard work and great company for the last 50 days!
I'm also astonished at what a positive, strong, and independent group of cyclists we had. This helped to make our jobs that much easier… and enjoyable. My impression is that the majority had their expectations met, and they had a healthy amount of surprises along the way too. The cyclists found their way that first day out of Paris and cruised through France on mostly quiet country roads. They cycled through Germany to Hungary along the Danube Cycleway in scorching heat. From there they conquered the epic climb in the Carpathian mountains of Romania on the picturesque Transfagarasan highway. The group tested out our brand new Bulgarian route and its quiet yet challenging roads. They won the battle with the unending hills and intermittent headwinds in Turkey. In spite of two bouts of gastro intestinal unhappiness that seemed to hit everyone late in the trip, they arrived to Istanbul still smiling.  Luck was also on our side – we had essentially no rain during the seven weeks, a ridiculously low number of flat tires, and no lost baggage, or passports.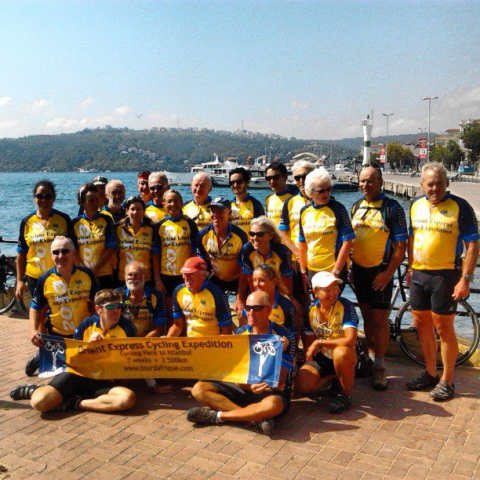 The riders of the 2013 Orient Express should all be very proud of their great effort and perseverance. Jim asked me if the Orient Express is the "easiest" of our tours and I told him that we don't offer easy tours. Each tour offers a challenge, and each cycling adventure we run will make you step out of your comfort zone on more than a few occasions.
Three days before the finish, Bob turned to me with a childlike excitement and said "I have a serious shot at EFI, don't I?" Bob is not the fastest in our group, but this retired surgeon has turned over his pedals every inch of every mile since Paris.
Liz, another of our strong-willed and steady riders came on this tour because August 25th was not only the day we arrived to Istanbul but also the day she celebrated her 60th birthday!
Here are a few of the final entries I have read from some of the riders (as well as some pictures). Take some time and read their reflections on the trip.