Blog
REGISTER NOW
LOGIN
SIGN UP FOR OUR NEWSLETTER
Cycling in Rajasthan
fascinating history, amazing architecture, rich cultures and traditions, historic monuments, lakes, desert
We have all heard about the Great Wall of China and some of us who cycled on the Silk Route had a good chance to see great deal of it. In fact, in one particular place, the riders even camped out for the night under the ancient wall. But how many people have heard of the Great Wall of India? Certainly not I, until I cycled the inaugural Indian Adventure bicycle tour in 2011.
The Great Wall of India was built in the mid-1400s to stop the Moslem invaders. Erected by Rana Kumbha, one of India most well-known rulers, it is 32km long. The wall was built over the Aravalli range in the State of Kings, as the state of Rajasthan is known, being the largest of the 28 Indian states. The wall is another major attraction in a state which seems to have it all: fascinating history, amazing architecture, rich cultures and traditions, historic monuments, lakes, desert, wildlife, palaces turned into beautiful hotels and on and on.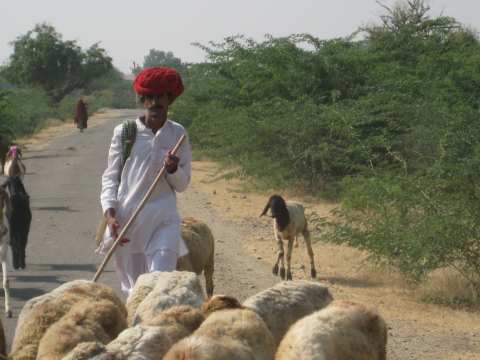 Rajasthan is a great place to begin our cycling expedition – from the Taj Mahal to Kanaykumari, the southernmost point of India. If you know your geography than you know that Taj Mahal is not in Rajasthan, it is located in a city called Agra in Uttar Pradesh, one day of cycling from Rajasthan. However, considering that the Taj Mahal is often mentioned as the most amazing/perfect building in the world, once you cycle the wonderful cities of Rajasthan – Jaipur, Pushkar, Jodhpur, Udaipur you will agree that Agra should probably be part of Rajasthan. That is not to say that if you have signed up for the whole Indian Adventure you will be disappointed. I am simply saying that cycling India is a cornucopia of sights, sounds, tastes, smell and touch and that the first section, which we call Royal Rajasthan Ride, is a great way to get you into the mood.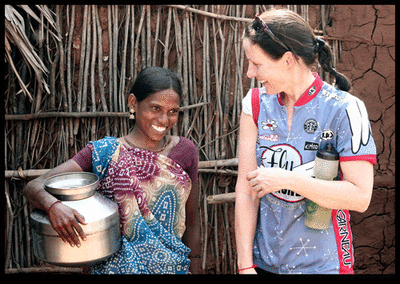 I was full of apprehensions about bicycling India with visions of chaos, noise, beggars and diseases. After all, this is a place of 1.2 billion people, many extremely poor. I could not have been more wrong. Yes, all of it exists in India and plenty more, but as Rajasthan is the State of Kings, so India is a stately nation of spirituality, joy, visual and mental stimulation and, most surprising, a great place to ride and have a chance to truly experience India.
Do you need more convincing to join us this January – March on the 2014 Indian Adventure? See 29 interesting facts about India.