Blog
REGISTER NOW
LOGIN
SIGN UP FOR OUR NEWSLETTER
Cycling will keep you 'Forever Young"
Even if you are not a music lover, if you live somewhere in the modern Western world, you probably recognize this song.
May God's bless and keep you always,
May your wishes always come true,
May you always do for others
And let others do for you.
May you build a ladder to the stars
And climb on every rung,
May you stay forever young.
May you grow up to be righteous,
May you grow up to be true,
May you always know the truth
And see the lights surrounding you.
May you always be courageous,
Stand upright and be strong,
May you stay forever young,
Forever young, forever young,
May you stay forever young.
May your hands always be busy,
May your feet always be swift,
May you have a strong foundation
When the winds of changes shift.
May your heart always be joyful,
May your song always be sung,
May you stay forever young,
Forever young, forever young,
May you stay forever young.
Of course this is Bob Dylan's classic song – Forever Young.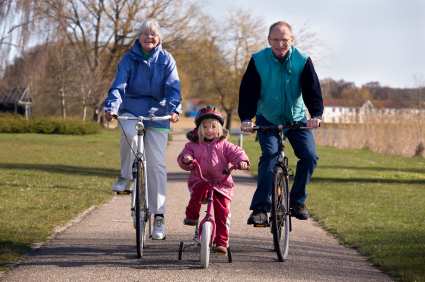 If you are really lucky and happen to live in a modern neighborhood that has no traffic – and unfortunately these neighborhood are all too few – you will often be able to witness something that reverberates in Bob Dylan's lyrics. You will inevitably see kids as young as three years old learning to cycle, young men and women spinning along the roads and old folks pedaling peacefully to their destinations. Take a minute and look at all the faces going by, but particularly watch the old folks on bicycles. I, for one, can't help but think that they are "forever young". I mean, how many activities in the world can be enjoyed equally by the very young, the young, the middle aged and the old folks. How many can produce the same emotions – the joy, the exhilaration? How many?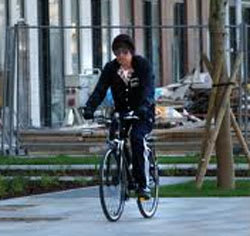 Bob Dylan wrote the song in 1974 when he was a young father. But it seems that he lives what he  preaches. Here is a recent picture of Bob cycling in Bratislava, Slovakia, a rest day stop on our TransEuropa and Orient Express Bicycle Expeditions. But Bob, if I may be so bold, if you enjoyed cycling in Bratislava, I would venture to say, you would enjoy cycling the other parts of the TransEuropa or the Orient Express as well. So if by any chance you get this invitation and want to join us, we promise not tell anyone.