Blog
REGISTER NOW
LOGIN
SIGN UP FOR OUR NEWSLETTER
Spiritual India:The Ellora Caves
You can visit this amazing place on the Indian Adventure
For many people cycling, especially along quiet back roads and through natural landscapes, is a meditation. They say it induces a kind of bliss:  that state when your body, mind and soul melt into one harmonious state of being. It probably also has a lot to do with the happy stream of serotonin that is gently dispensed throughout your body by pedaling long distances. What better way to get in tune with one of India's great spiritual structures – the Ellora Caves – than to cycle there? Set about 30kms north-west of the city of Aurangabad, the cave structures are symbolic of India's tolerance and search for harmony and peace dating back to ancient days. Built between the 5th and 10th centuries, three religions – Buddhism, Hinduism and Jainism – established their sanctuaries and their communities in a single place.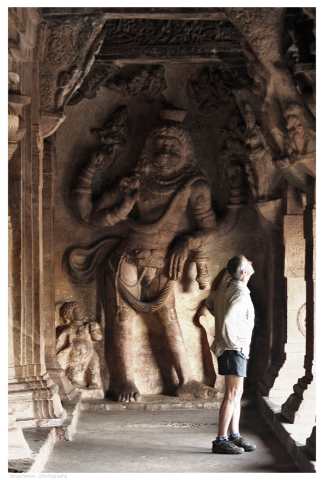 This breathtaking collection of art out of stone has been declared a UNESCO World Heritage Site as much for its technological feats and visual appeal as for its message of peace and tolerance. These 34 monasteries and temples, extending over more than 2 km, were dug side by side in the wall of a high basalt cliff. This rupestral ensemble constitutes one of the most beautiful expressions of the art of the Indian Middle Ages. On the site you will find 12 Buddhist (caves 1–12), 17 Hindu (caves 13–29) and 5 Jain (caves 30–34) caves. The 12 Buddhist Caves depict Buddha in various poses. The 17 Hindu Caves embody carvings of the Hindu Gods- Shiva, Vishnu, Durga, Parvati and animals. The 5 Jain caves include figures of the Jain saints. You will need about a whole day to explore all the caves. Don't skip any and many visitors have advised that you rent a guide for the day to help explain all the intricacies and symbolism of the various etchings and sculptures.
You can visit this amazing place on the Indian Adventure either by cycling the Full Tour or the 'Temple Caves & City Lights" section. A scheduled rest day will allow participants to explore this treasure at their own pace before heading for the throbbing metropolis of Mumbai.