Blog
REGISTER NOW
LOGIN
SIGN UP FOR OUR NEWSLETTER
Cycling Through History on the Bamboo Road.
Experience history on the Bamboo Road bicycle expedition:
The Lonely Planet section on Phnom Penh states, "It's exotic, it's chaotic, it's beguiling, it's distressing, it's compulsive, it's repulsive".  If you cycle to Phnom Penh, averaging well over 100km per day with humidity close to 100% and temperatures above 40C and find yourself in a nice cool hotel room – what would you choose to do on your rest day in Phnom Penh, given such a description?
Some cyclists will simply say 'I am here to rest and re-hydrate'. Some will focus on the beguiling, sightseeing at the Royal Palace, the Silver Pagoda, strolling along the riverfront and eating in fine restaurants. Others may choose to focus on the distressing – the dark side of human nature and visit the infamous Tuol Sleng museum or the 'Killing Fields'. I chose the latter activity, not because I am uninterested in the beguiling or exotic, it is just that on our tours we tend to emphasize the positive in human nature and not the repulsive or distressing. And Tuol Sleng, the torture museum, and Choeung Ek, as the killing fields are known here, are more than repulsive and distressing.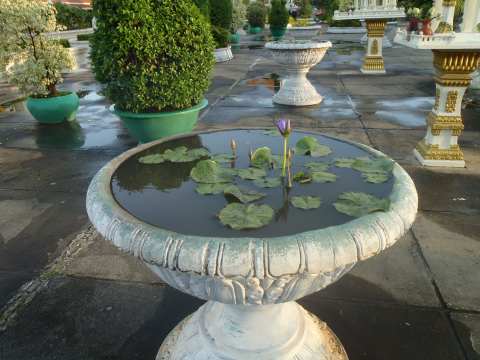 Not so long ago, between 1975 and 1979,  the Khmer Rouge regime came to power with the idea of creating a 'New Man'. During this short time period, these rulers managed to kill and torture over two million of their own citizens, about a quarter of the country's population. Their victims were buried in over 300 killings fields (such as Cheung Ek). How was this possible? How could it happen? It is not something I could ever explain. Suffice to say, a 'New Man ' was not created. Instead, a rather more traditional aspect of mankind was exposed once again – our innate and immense capacity to kill.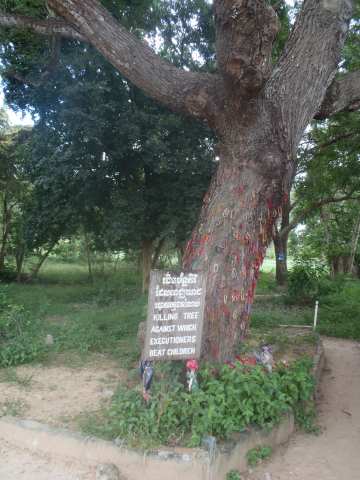 Cheung Ek is a solemn place to walk around. There are 18 stations to visit and at each there is a short commentary. Two stations, in particular, speak loudly in simple terms of what happened at these sites – warning about the human capacity for genocide and pointing to the places around the globe where this has happened over the last couple of centuries. It seems that given the right circumstances, any charismatic individual with powerful allies – who see a political advantage in protecting him – can convince people to kill men, women and children, without feeling any remorse.
Cycling is a great way to see the world, but for me, at least, it is also a great way not only experience the exotic, the chaotic, the beguiling, but also to contemplate the distressing, the compulsive and the repulsive.