Blog
REGISTER NOW
LOGIN
SIGN UP FOR OUR NEWSLETTER
Cycling into Hua Hin
As you cycle into Hua Hin you come across not one, nor two, but three welcoming arches. This should be enough to give you a hint that our second rest day location in Thailand is 'the' original beach resort, tracing its genesis to the 1920s when King Rama VI built a summer residence here to escape Bangkok's stifling climate.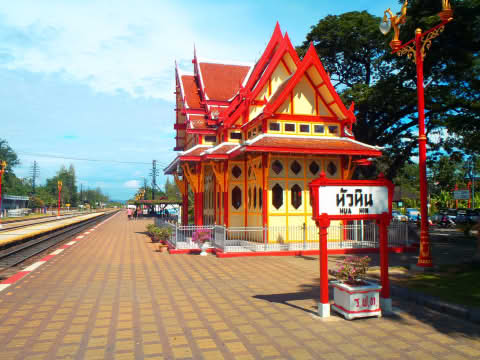 It was, however, King Rama VII who began construction of a railway to the resort town which, in turn, allowed the Thai aristocracy to build their own residences nearby. Nevertheless, the real push for international tourism in the area was kick-started when the French chain Sofitel renovated the old Railway Hotel in the 1980s.
So Hua Hin is now a gathering place for thousands of international tourists, who are attracted by the beaches, the food, the easy going locals and the legendary Thai hospitality. One thing that I did not expect is that thanks to the current King Rama IX, the longest ruling monarch in the world and a devotee of Jazz, Hua Hin has an annual beach Jazz festival – unfortunately just not when we are in town. The town is also preparing for some kind of a bike event, at least I gather from looking at some of the posters around the city.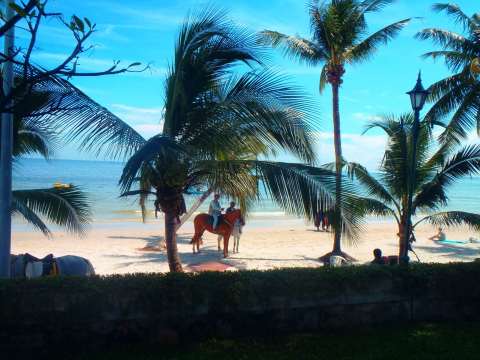 You may ask, how are the Bamboo Route cyclists faring on their rest day here? Well, according to unconfirmed rumors, some have been lingering much too long by the hotel's large pool; others apparently have been seen fliting from one seafood restaurant to another; yet others have been ignoring the equatorial sun and have been seen stretched out on the beach. On the other hand, some have been loitering in the hotel's lobby where the Wi-Fi connection is the strongest and still others have simply disappeared and who knows if they will have enough will power to get back on their bikes. To top it all off, just a few minutes ago I saw some cyclists limping gingerly back to their rooms – possibly as a result of a local specialty – the infamous two hour/four hand Thai massage.
Bottom line, not a very pretty picture!
Put yourself in this picture. Register for the 2015 Bamboo Road Bicycle Expedition.