Blog
REGISTER NOW
LOGIN
SIGN UP FOR OUR NEWSLETTER
Rest Day in Si Phan Don
in Laos it is known that 'too much work is bad for your brain'
For us in North America, when someone says "no problem" we immediately think of Jamaica. In Laos, however, the translation would be "Baw pen nyang". Some think that this is the result of the type of Buddhism practiced in Laos, known as Theravada which emphasizes 'the cooling of human passions'. But I am not much of an expert on passions so I will leave that to others to comment on. What I do know is that Laos is well known as a laid-back country or rather the population is thought of as being 'laid-back'. So before we depart the country our intrepid tour leader Sharita, scheduled a rest day in a place called Four Thousand Islands (not to be confused with the Thousand Islands in Southern Ontario) – better known as Si Phan Don.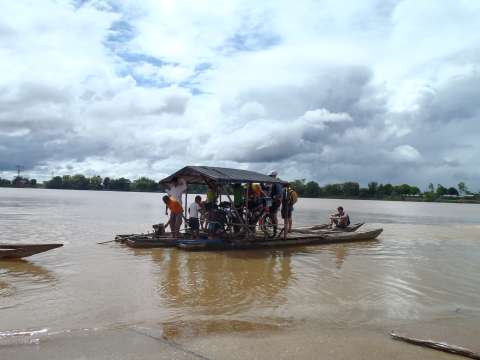 Laos and its people were once described rather disapprovingly by the French (former colonial rulers of the area): "The Vietnamese plant rice, the Cambodian watch it grew and the Lao listen to it grow". Si Phan Don is known as the 'laid back of the laid back' where life slows done even more. Arriving here on a wonderful ferry, a handful of cyclists at a time, we parked ourselves on the verandah of our hotel, situated right on top of the Mekong, to sip drinks, tell bicycling stories from the last few days, count boats as they sped by (I counted three in a period of 90 minutes) and generally listen to the water flow by.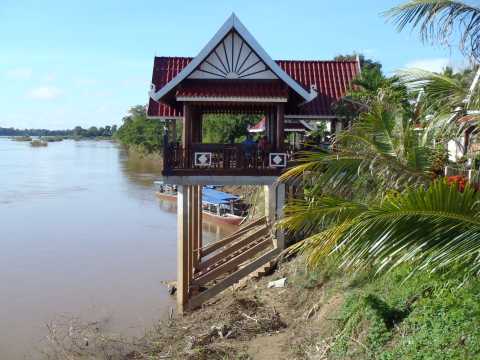 Of course I would be remiss to say that is all we do on our rest day. We all – well most of us – had to walk 500 meters to a local laundry to deposit our sweaty bike clothes and we will then have to walk back to pick it up. I tell you, it is hard to find good service. The truth is that there are some cyclists (whose identity I will protect) who need some time to adjust to becoming 'laid back' and they have decided to take a boat and visit some of other four thousand islands near by. A couple of the islands in particular are known as 'Travelers' Mecca' or 'the land of lotus eater'. I hope that they will be able to refill their restless souls there.
In any case I now must end this short blog because in Laos it is known that 'too much work is bad for your brain' and here they 'tend to feel sorry for people who think too much'. And frankly it is really important for me to fit in.