Blog
REGISTER NOW
LOGIN
SIGN UP FOR OUR NEWSLETTER
Memories of the Masai Steppe
Imagine crawling out of your tent with bugs in your hair, mud on your face and bleary eyed
Our taxi charges down Nairobi's main road without any lights on. As it is, Kenya's capital is not all that concerned about streetlamps. I am quite sure we are going to die. No-one will find our flung-from-the car corpses until first light and I did not even have any ID on me. Or maybe hyenas would drag our bodies away and devour us and we will be the eternal mystery of the Two Missing Redheads. I tap the driver on his shoulder and ask him if the lights are broken and if we should rather get out. 'No!,' he yells. 'Without lights you don't use so much petrol.' I am stunned. My fear evaporates as my brain tries to grapple with this logic. And then I notice that none of the cars were using their headlights. I sink back into my seat and pray for a swift painless death.
We survived that ride and it was the last time ever I sat in a car in Nairobi at night time. We were the communications team on Tour d'Afrique's Cape to Cairo bicycle tour, the Tour d'Afrique, and we had a lot to do before meeting the group in Nairobi as they rested up before beginning the gorgeous Masai Steppe section of their journey. We had press conferences to arrange and TV interviews to do. Apart from the hair raising cab ride we found the Kenyans that we worked with super friendly and helpful. Imagine crawling out of your tent with bugs in your hair, mud on your face and bleary eyed only to be interviewed by The Kenyan Broadcasting Company. Yet the elegant and eloquent staff took it all in their stride.
After surviving Nairobi's unusual nightlife we hopped on board the tour and traveled through magical Tanzania where I decided that if the lunatic politicians in South Africa finally made living here unbearable I would retire in Tanzania. This country is simply bursting with potential, its red soil ripe for planting and its fat clouds heavily pregnant with the promise of rain.
In Malawi we had a different mission. We had to buy bicycles to donate on behalf of the Tour d'Afrique Foundation which donates one new or refurbished bicycle for every full tour rider on the tours where we have partners. These donations are typically made to community development and health care workers or to bicycle related charities. We left the tour and hopped on a Zoom Bus to Lusaka: 10 hours, two women, two laptops, a camera, video camera, a bag full of plugs, adapters and stuff, batteries, our sleeping bags, what remained of our clothes and a toothbrush. Yes only one. We were sitting ducks. We sat squashed on the bus like breadrolls in an oven. Every time we stopped, more people alighted until we were all but bursting at the seams. Still, it was a great time to bond with the locals, their babies, heaps of luggage and sweaty packed lunches.
The journey proceeded without major incident (it must be the red hair). The bus dive-bombed into Lusaka at ten pm and within three seconds they had tossed our bags into the middle of the road and screamed off into the night. Lusaka started life as a dusty railway siding and the first stage of Cecil Rhodes's grand plan to build a railway from the Cape to Cairo, passing through British territory. The railway never quite made it to Egypt but the main street is still called Cairo Road to this day. Fortunately for us, Lusaka is now a bustling city with shining high-rise buildings and street markets sitting side by side and we easily located the main bicycle shops.
The bartering could begin in all earnest. Despite being a modern city, bartering is still the norm and, in fact, you are seen as either ignorant or rude if you do not make some attempt at haggling over the price of anything from a banana to a bicycle. We negotiated in loud voices with Mr. Patel, the eager Indian bicycle shopkeeper, all the while pointing out the shortcomings of the bicycle as he was singing its praises. With our combined expertise – neither of us can fix a puncture nor replace a spoke – we finally settled on a sturdy looking creation and congratulated ourselves on the great deal.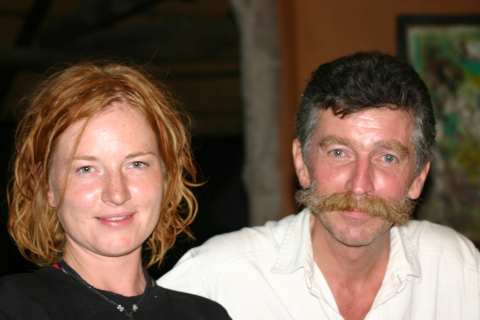 After a good night's sleep and considering that the money we were about to blow on the bikes was not ours, we decided to get a second opinion. We hooked up with an eccentric Italian called Dino. He runs a cycle club based in Lusaka and has been living in Zambia for over 25 years. Dino took one filthy look at our choice of bike and rapidly started negotiating with Mr. Patel whose good humor quickly dissipated as he realized that his great deal was turning sour. On Friday night we had a press conference and welcome cocktail function for the Tour at the Crest View Hotel just outside Lusaka. It was a very grand affair despite the fact that some of the cyclists were snoozing during the speeches. The South African High Commission, The Zambian Tourist board and Zambian Environmental Council as well as Dino's Boys' cycling club and the local press attended the function.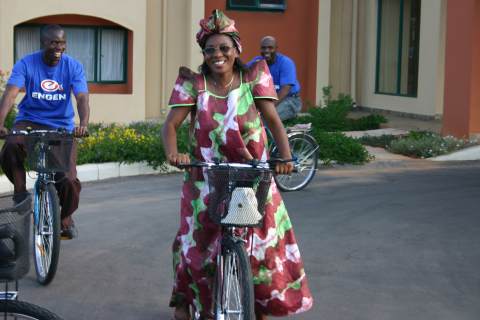 The funds for the bikes were generated by the Tour d'Afrique founder, Henry Gold. Mrs. Cnilufya accepted the bicycles on behalf of the Mututa Memoral Day care. This organization started in 2000 after a group of women in the Chainda region just 13kms south of Lusaka grew tired of observing the destruction caused by HIV/Aids in their community.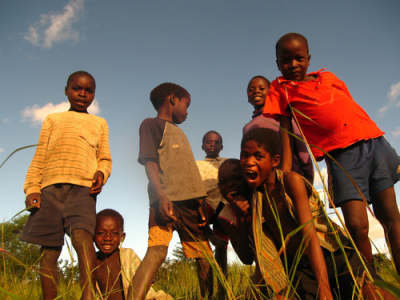 The many HIV/Aids orphans lacked direction and guidance as they are left without either one or both of their parents. It is five years later and the group now serves four compounds (townships) by creating opportunities for the youth to participate in karate, cycling, music, chess, volleyball, football, netball, camping excursions and cultural activities. The donated bicycles will be used for their sporting activities as well as home based HIV/Aids treatment and care.
Create your own memories on the Masai Steppe section in 2014 on the Tour d'Afrique.