Blog
REGISTER NOW
LOGIN
SIGN UP FOR OUR NEWSLETTER
Thailand the Beautiful
Rich in culture, this country is not to be missed.
After two and a half months of riding through Asia's vast continent, the Bamboo Road crew is nearing the end of their three-month journey. From China to Vietnam, Laos to Cambodia, we find ourselves now in the heart of Thailand. It goes without saying that the scenery and culture has changed drastically since our first days in Shanghai and I wondered what the cyclists thought of their long days pedaling through the area. Coming from such a unique perspective, and from people who have traveled extensively across the globe, I was curious to hear their point of view.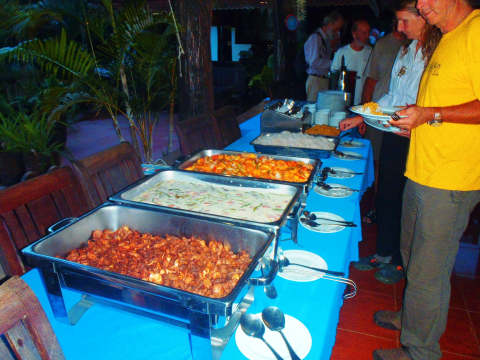 Across the board, everyone has commented on the food. If you like spice, and I know most of them do, then Thailand is the place to visit. From green curry to massaman, cashew chicken to spicy minced beef with a side of mango salad, it's no secret that the Thai people know how to cook with spice, leaving the group with collective "fire mouths" each night at the dinner tables. "It's amazing food and the best we've had so far" Jeff Lizotte exclaims. (He's clearly a fan of the heat)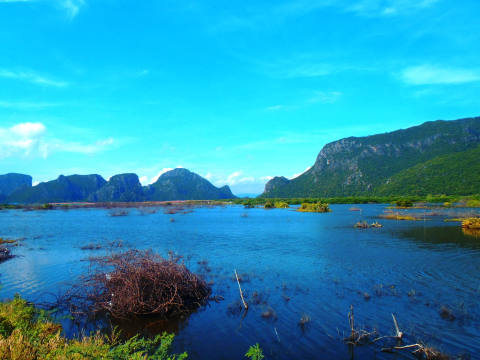 As they've all remarked at how beautiful this country is, it's safe to say they understand the pull that Thailand has. Walli Pagniello, has nothing but good things to say about the countryside pointing out that "The last couple of days the scenery has been awesome. So exceptional that even Buddha laid down and slept." Charles Feaver agreed and added, "the view can quickly go from ordinary to extraordinary." With rolling hills, lush, dense jungle and mountains shooting out of the ground like the earth's fingers, these last few days along the coast have definitely been crowd pleasers. It hasn't gone unnoticed that we have had no shortage of gorgeous beaches to take a dip in after a long day in the saddle. Not too shabby.
While riding each day they've observed a difference in the road's shoulders. These things are massive and are what all bike lanes and shoulders should be. What's more, cars actually stop at stop signs and yield to oncoming cyclists. Not to say we didn't learn to navigate in more aggressive traffic before but it's a welcome courtesy, especially now that we're dealing with riding on the left side of the road.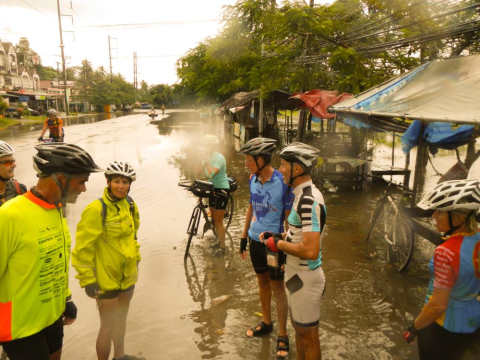 Since we've arrived, we have experienced our first, and most likely not our last, rainy day. Everyone deals with the rain differently. Some thrive in it and feel more alive, while others welcome the change in weather, rejoicing that it keeps them cooler. But most of us just can't wait to get home and take a hot shower. Even if we are experiencing one of our "ordinary" days, Dennis Kipphardt has an optimistic and adventurous way of seeing things. He explains, "It's all what you make it." And that is a lesson we need to remind ourselves of throughout this adventure. Thailand is filled with all sorts of hidden and not-so-hidden goodies. If you can take time to stop and notice the things around you like markets, shops, arts and crafts, temples and mosques, you will see that Thailand is well travelled for a reason. Rich in culture, this country is not to be missed.
— Nieka Streef – Bamboo Road, Assistant Tour Director
Experience Thailand on the 2015 Bamboo Road – Full Tour or the Thai One On section.