Blog
REGISTER NOW
LOGIN
SIGN UP FOR OUR NEWSLETTER
Walkabout in Malacca
And so, after a three month journey from Shanghai, the Bamboo Road Bicycle Expedition is enjoying its final rest day in Malacca. This city, situated on the coast of the Malacca Strait, has been ruled in the last five centuries by a Hindu prince, the Portuguese, the Dutch, the English, the Japanese (for a short period during WW2), then the Brits again. Finally, it became part of Malaysia.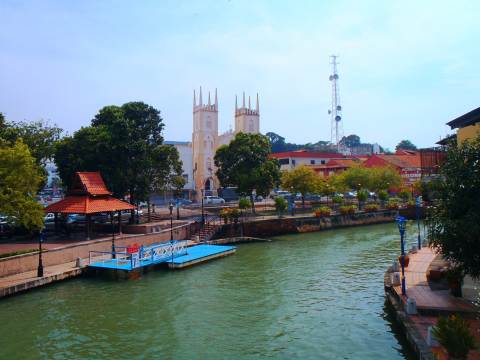 Malacca (the 10th UNESCO site that we have cycled to on this East Asian bicycle journey) has much to offer visitors like us. There are historical places, a wonderful Chinatown and Little India, several museums and a superb local cuisine bringing together Portuguese, Chinese, Malay and Indian influences. The combination of these various spices, herbs and veggies has inspired what is called Peranakan or Nonya Cuisine. After having a couple of meals I, for one, love it.
Like on all previous rest days I took my camera and went, as Michael in the office calls it, 'walkabout' – an Australian term that will become familiar to you, my dear readers, on next year's tour – the Trans-Oceania Bicycle Expedition. As the touristy part of Malacca is quite compact, it was not long before I was bumping into our Bamboo Road cyclists on their own 'walkabouts'.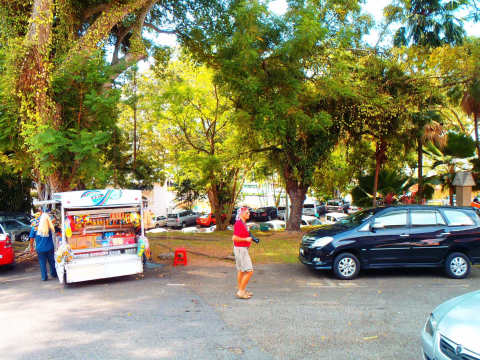 There was, however, one of our cyclists who was not walking but, to put it mildly, limping. From far away it looked rather painful and uncomfortable. But, despite appearances, there was no doubt that it was the indomitable Rae. Rae, you see, is a former NATO pilot commander and even now he keeps himself busy training pilots and investigating air accidents – when he is not cycling one of the 7Epics. He and his partner Ursula have had a rough trip, each taking a bad tumble. Nothing serious enough to stop them from cycling and investigating that curious world out there however. No sitting, resting and recovering in the hotel for them – no matter how long it took to walk up to that citadel or to check the replica of a Portuguese 16th century boat.
I could write more about Malacca but than you would not have heard about Rae and Ursula – one hell of a team of dedicated cycling tourers – and what makes our cycling adventures so special.
Go walkabout in beautiful Malacca on the 2015 Bamboo Road Expedition.