Blog
REGISTER NOW
LOGIN
SIGN UP FOR OUR NEWSLETTER
Arrival in Sudan
We asked if he would be cycling and he laughed and said no in a way that sounded like "no way, that's crazy".
The arrival into Sudan went smoother than anticipated. Who knew the Newark airport would have been the worst part of the journey to Khartoum?! It was warm and sunny when we got off the plane. Heaven. Especially since they are having record lows back home in Pennsylvania. Got out just in time! Our airport transfer was already waiting for us and helped us obtain our visas. The only hiccup was the confusion over the print year of the money we were trying to use. Apparently $100 bills from a few years ago are no good here…note to self. Our bikes and bags were waiting for us in the baggage claim – quicker than the Philly airport! Somehow we managed to get 3 bike boxes and 7 duffels into one Mitsubishi Hilux (seems to be the vehicle of choice in Africa). Unfortunately, this is where we parted ways with our airport assistance guy. We were a little bummed to see him go as our cabbie did not speak English and didn't know how to get to the hotel. After asking for directions 5 times and a few U-turns we arrived at our destination. I am savoring the bed and hot water as it could be my last for a while…
Breakfast at the hotel was awesome. Lots of variety and plenty of fresh fruit. Enjoyed my first cup of tea in Sudan. All is right in the world. After building our bikes and a quick test ride we took advantage of our last free day before tour prep begins to check out the city. The hotel arranged for a driver to show us around. We started our sightseeing at the confluence of the Blue and White Nile. Oddly enough, there is an amusement park that marks the spot where the two great rivers meet. It was described so eloquently by Justin as "Six Flags from hell". None of us disagreed. You couldn't pay me to get on that roller coaster. We had dinner at a pizza place that had quite the unusual topping options. Hot dogs on your pizza anyone? How about tuna? It does explain the several cats chilling on the roof of the dining patio though…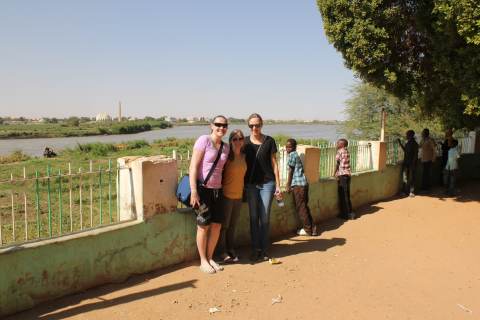 Before our tour we had the opportunity to meet a guy from the Sudanese Ministry of Tourism. We made small talk for several minutes before finding out that he accompanies us on the tour through Sudan. Made so much more sense as to why we were summoned from our rooms to chat with him. We asked if he would be cycling and he laughed and said no in a way that sounded like "no way, that's crazy".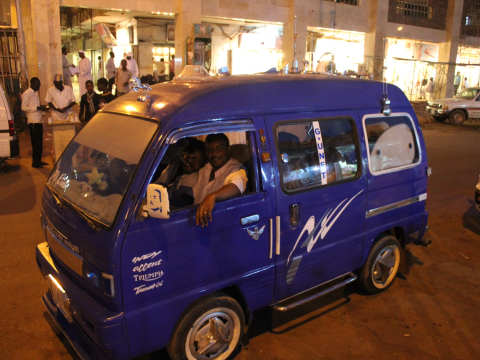 We made a stop at a local bike shop to track down a replacement quick release skewer but didn't have any luck. There was quite a wide variety of snake skin shoes though. We parked by a mini van that had "50 Cent" and G-Unit" (spelled G-Unet to be exact) plastered on its windshield and doors. Good to see that American rap is alive and well in Sudan. Now we are off to the Blue Nile Sailing Club (very fancy name for a campground) to join up with the rest of the staff, get organized and start roughing it! Let the games begin!