Blog
REGISTER NOW
LOGIN
SIGN UP FOR OUR NEWSLETTER
Getting Ready in Agra
This morning as I showered, I watched a pigeon pacing back and forth on the ledge outside my window. We are in Agra, at the Amar Yatri Niwas. Tomorrow morning we will pedal out towards the Taj Mahal and then head west towards our first stop in Bharatpur. Energy has been high amongst the group and everyone – after months of planning – is ready to push out into Rajasthan.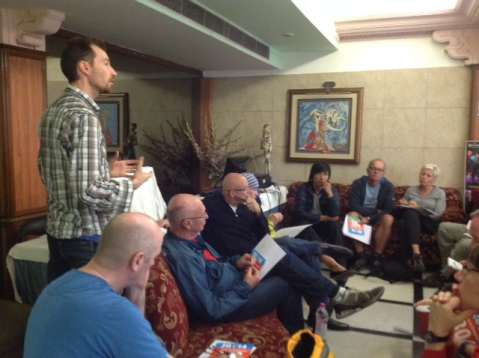 My new pigeon friend would trot along the window sill, then stop awhile and stare, then make some twitchy bird movements, and peck at his feathers. Watching the bird made me think about how very rarely I have been alone since arriving to India. At Delhi's airport there were hoards of people. As I stepped out into the fresh air after many hours airborne, the coolness of a Delhi winter felt nice. A railing running parallel to the front entrance of the airport held back a crowd of taxi drivers and family members waiting to engage with the incoming travelers. Many eyes settled on me as I approached. Passing through an opening in the railing, I was enveloped in the crowd… enveloped into India you could say. And since that moment I have had auto-rikshaw drivers, hotel staff, riders, curious kids, and fellow travelers at every turn throughout every waking hour of my day – including my pigeon friend keeping me company this morning. It can feel overwhelming at times but as we pedal out of the big city and out into the desert, there will be a lot more wide open spaces.
Earlier today, we had our first official rider briefing…squished into a corner of the hotel reception area. With the loud chatter of other guests competing for our attention, we ran through what the daily routines will be like. We talked about safety, and toilets, and dogs, and flagging tape, and plenty more. Tomorrow we hope to depart at the crack of dawn with a police convoy to guide us safely out of Agra.
A great way to keep up to date on the tour is thru Instagram, Facebook or Twitter. Follow @tourdafrique or better yet follow our Indian Adventure #IA2014 where many photos and videos will be posted throughout the tour by riders and staff.