Blog
REGISTER NOW
LOGIN
SIGN UP FOR OUR NEWSLETTER
Into Ethiopia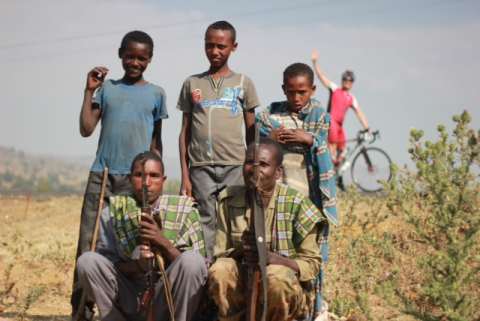 On Monday we crossed the border into Ethiopia and immediately were transported into a completely different world from Sudan. Although everything from the landscape to the food has changed, the main topic of conversation is the access to alcohol. As Sudan is a dry country, many of the riders have been looking forward to unwinding with a cold beer in Ethiopia. Unfortunately, they had to settle for a lukewarm brew as the local entrepreneurs who showed up at our first campsite with beer had no ice or refrigeration. But after 3 weeks of prohibition, I didn't hear too much complaining.
Hannah and I had a luxurious bucket bath on our second night in Ethiopia in a village hut adjacent to camp. We had two shower attendants in the form of a 6 year old girl and her toddler sibling. She filled the buckets for us, put down some tarps for us to stand on and even helped us wash our hair. It was a lovely bonding experience and the closest thing to a girls spa day….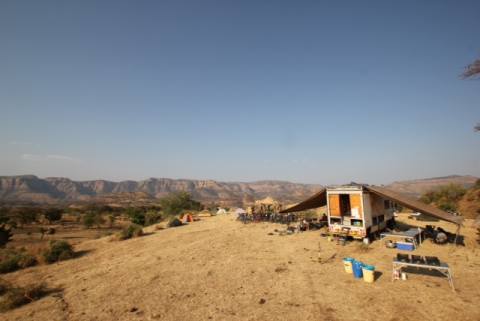 The mountainous terrain makes for challenging and beautiful riding and I managed over 6,000 ft of climbing before lunch yesterday. The brave souls that continued riding after lunch saw more hills, rock throwing kiddos and a festival full of people hopped up on "khat". The reward of two rest days at the Goha Hotel was worth it. The hotel is set on the mountain top with a spectacular view overlooking the city of Gondar. Riders have been enjoying the restaurant, pool, laundry service and most importantly, the hot water! It feels like a dream and everyone is so clean it's difficult to recognize each other.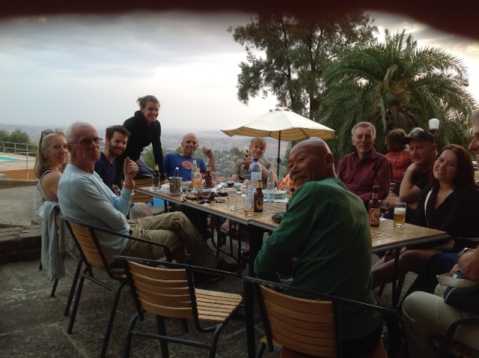 After dining al fresco by the pool we headed out for a night on the town. Our local guide took us to the most European style bar he could find followed by an Ethiopian discoteca where we got to observe (and partake) in some traditional Ethiopian shoulder dancing mixed with good old fashioned bumping and grinding. As we've had several weeks of tough cycling, stomach bugs and heatstroke, not all of us partied until 3AM. But we gave it our best.